Jumpstart provides alternative education to district students
Hang on for a minute...we're trying to find some more stories you might like.
In its third year, the district Jumpstart program continues to offer an alternative path to students who have struggled in a traditional school environment. Jumpstart intends to guide students to graduation and assists them in receiving college credits from community college and possibly a four year institution.
The Jumpstart program is an online curriculum that allows students to receive credit for traditional A-G courses on their own schedule. The program currently consists of 25 juniors and seniors from different schools across the district and is expecting the transfer of four more.
The distinguishing characteristic of the Jumpstart program is that it requires students to also take classes at the College of San Mateo. While students are only required to attend one class at CSM many students are enrolled in two or three, according to Carolyn Mendez, the Independent Studies and Jumpstart Coordinator for the district.
The program "allows students to double-dip, taking classes to fulfill requirements while also taking CSM courses that give them college credit," Mendez said.
Jumpstart students complete coursework online at their own pace but do have to attend advisory sessions with Mendez two to three times a week. The program maintains structure and oversight through these advisory sessions and frequent communication between students, advisors and parents through weekly progress reports.
Students who fail to maintain attendance or progress in the curriculum are often transferred to Peninsula in order to take traditional classes to make-up credits.
The Jumpstart program is part of the SMUHSD sector of programs that allow students with extra flexibility and freedom in their studies. After students transfer to Jumpstart they do not take classes at their school of origin, but they can still take advantage of school events and programs such as dances and sports. Along with Jumpstart, Middle College and the independent studies program also provide educational opportunities to district students.
Middle college, which is based at the College of San Mateo, includes high school courses taught in a traditional classroom setting while "independent studies is not teacher directed and primarily used as a bandaid for students who can't work with a regular schedule," Mendez said.
The Jumpstart program utilizes the same online curriculum used by independent studies but also gives students the opportunity to take community college classes.
"The program is ideal for students that are proactive and self-motivated [and] want a modified schedule," Mendez said.
The path to the Jumpstart program begins at the traditional high schools within the district. Counselors at individual schools identify students who they think would be more successful in the Jumpstart program. Approval for the transfer to the program is then given by Don Scatena, the Director of Student Services for the district, who oversees the program. Upon approval of the transfer, online classes are selected and provided to the advisor and student.
While Mendez stands behind the success of the program, its short existence has made it difficult to understand the long term outcomes of its programs.
"Since it has only been around for three years we haven't seen that many kids go all the way through the program," she said.
About the Writer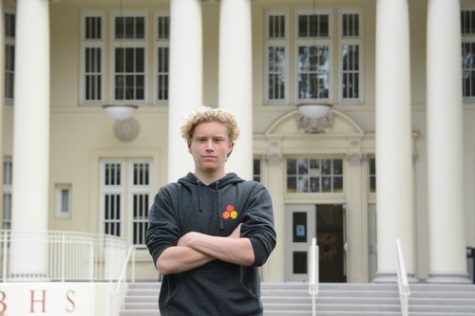 Charlie Chapman, Senior Reporter
Charlie Chapman is in his senior year at Burlingame High School. Previously, he attended Burlingame Intermediate School. This is his third year in the...