Bomb cyclone and a broken water main: looking back on unprecedented school cancelations
Call it a bomb cyclone. Call it an atmospheric river. Call it a thunderstorm. Either way, the strange weather that coursed through the Bay Area last week was unprecedented, resulting in school cancellations on both Thursday, Jan. 5 and Friday, Jan. 6. Thursday's cancelation was announced on Tuesday as a pre-emptive effort to avoid dangerous conditions.
"San Mateo County was trying to encourage all schools in San Mateo to close for [the] Thursday that we closed," said Principal Dr. Jennifer Fong. "They had their own weather report… [and were] fearful that we would have a repeat of whatever happened on New Year's Eve, with a lot of flooding and a lot of trees down."
Across the district, however, schools expected to re-open for Friday's classes. But when Fong was notified by the cafeteria staff — who begin work at 5 a.m. — that the water was shut off across campus, she immediately reached out to her facilities manager to get to the bottom of the issue and figure out a solution. 
"I reached my facilities manager, I then reached out to the superintendent and to the district's lead on facilities to say 'we don't have water,'" said Fong.
Fong sent a total of three messages on Friday morning. The first, titled "No water on campus," urged students to use the restroom before school and emphasized that "the district and the school maintenance team [was] investigating the source of the shutoff." At 7:44 a.m, however, Fong sent another message, telling students to standby and wait at home. 10 minutes later, she alerted students that school would be canceled due to an Educational Code that prohibits school when there is no water and that the culprit was a water main breakage.
"At that time, when I sent the first message. I wasn't aware of the [educational code]," said Fong. "If we had lost water in the evening and I knew about it, we would have put porta potties, and then we would have school."
To avoid serious disruption to lesson plans, some teachers assigned homework or lessons digitally.
"I think the idea of expecting kids to stay engaged for an entire year in their bedroom was ridiculous [during the pandemic], but to expect them to stay engaged and focus for one or two days outside of their normal routines is not that unreasonable," AP World teacher Joshua Gnass said.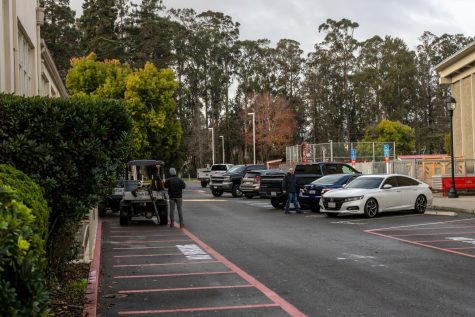 Unexpected cancellations can affect some classes more than others. For example, Advanced Placement (AP) Calculus BC, which covers a wide range of challenging math topics, traditionally has just one week to review the material before the AP test. And given this year's delays, that review buffer has been cut to half a week. 
"Any change in the schedule is going to affect all classes, not just AP classes," said AP Calculus BC Teacher Erik Bennett. "I think the difference between an AP class and a non-AP class is that there's a test at the end of the year, so you have to get through all of the curriculum so that students can be successful on the test."
Many students appreciated the extra days off, but some were skeptical about the need for school cancellations on Thursday.
"I certainly liked not having to [go to] school, but I think on Thursday it wasn't necessary to [cancel school]," junior Isaac Van Voorhis said. "The wind seemed fine enough. I was ready to bike to school."
Gnass felt similarly.
"
I don't understand why we canceled school because of rain, but I do understand why we canceled school because of no water, because no water is no bathrooms, and that's a mess
— Joshua Gnass
"I don't understand why we canceled school because of rain, but I do understand why we canceled school because of no water, because no water is no bathrooms, and that's a mess," Gnass said. "I hope they don't cancel schools again because of rain. I think that's a little ridiculous in my opinion."
Regardless, the precautionary cancellations may have avoided a logistical nightmare: On Thursday, a tree fell on the Caltrain tracks near Burlingame Avenue, damaging power lines and closing all local rail crossings until 3 p.m. Had classes been held, the closures may have posed a significant obstacle to students' transportation to and from school.
Based on her assessment of the storm damage, Fong felt that closing school was a necessary precaution.
"I was glad that we were closed on Thursday because when I woke up, there were trees down on either side of where I lived," said Fong.
Leave a Comment
Donate to The Burlingame B
Your donation will support the student journalists of Burlingame High School - CA. Your contribution will allow us to purchase equipment and cover our annual website hosting costs.
About the Contributor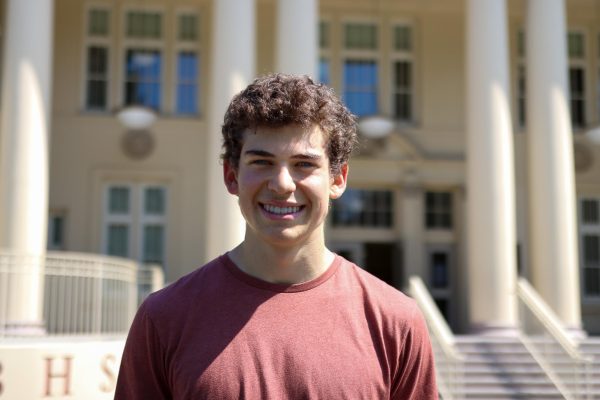 Jake Rothstein, Managing Editor
Jake Rothstein is a senior at Burlingame High School and is a third-year student in journalism. Jake is excited to be the new co-managing editor for the...