First-year Italian teacher Celine Tan takes on changing language program
In 1997, Burlingame's Italian language program was on the brink of collapse. In a last ditch effort to revive the program, the administration took a chance on a young teacher with new ideas: Antonella Wemple. 
Originally, they gave her two years to turn things around. But 25 years — and many exchange trips to Italy — later, the program is still around, thanks to Wemple's effort and determination.
However, as Wemple's tenure at Burlingame grew to well over two decades, it became clear she would need to find a successor. In recent years, the program has experienced high turnover in its search for a teacher to follow in Wemple's footsteps.
In each of the past two school years, Burlingame welcomed a new Italian teacher for Wemple to mentor in lower-level classes. But both of those hires — Mathilde Lenoir in 2021 and Giorgia Battisoto in 2022 — left for other schools after one year. Then came the sad but bittersweet news for many: Wemple would retire at the end of the 2021-2022 school year. 
This year, another young teacher, Celine Tan, has taken the reins of the program as it transitions into a new chapter. Tan previously worked as a translator and cultural consultant in Italy, before studying in the University of California (UC), Berkeley's Italian Studies PhD program. When Tan opted to leave the program and gain classroom experience, Burlingame's Italian language program came calling.  
That has left Tan, in her first year at 1 Mangini Way, as the lone instructor of the four Italian curriculums. 
"Every day is a new surprise in all aspects, so it's been a very steep learning curve," Tan said. "I've been challenged in ways that I haven't in the past. I've had to grow very, very quickly. But I've felt very fortunate and supported throughout this process by coworkers, students and admin."
In her transition to Burlingame from UC Berkeley, Tan has had to adjust her expectations — unlike university students, most high schoolers aren't studying a language for clear career goals, such as research, studying abroad or employment.
"I think it's different from a high school setting where it's just sort of part of your curriculum, and not everyone shares maybe that same sense of motivation," Tan said. "One thing I've really tried to improve on in my teaching is using Italian as a way to demonstrate how language is crucial for any other aspect of life…rather than just be like 'learn these sentences, learn these verbs.'"
Tan hopes that learning about rich traditions, historic events and figures, along with contemporary issues that affect present-day Italy, will help the language feel relevant to students. 
"I know how important language has been in my life and how much it has shaped how I view the world. I'm excited to breathe new life into it," Tan said. "For example, one thing I care about is representation…we can know about Leonardo da Vinci or Carvalho Botticelli, but do we know the leaders in the LGBTQ movement, in politics?"    
Tan also took time over winter break to reflect on the challenges she faced in planning or conducting lessons. And with a full semester under her belt, she feels more familiarized and confident with her students. Ultimately, she recognizes that most students are still acclimating after back-to-back years with new teachers. 
"With that experience, I've already been able to make certain changes and shifts in how I operate…first semester, the overall vibe I got from my students was 'you're not my real mom,'" Tan said. "Now I really feel like we're all a bit more at ease, and that's been really helpful." 
A seemingly mundane icebreaker served as a breakthrough moment for Tan. The day Italian exchange students came to visit Burlingame, Tan asked each person in her class to write down five numbers that held meaning to them, and to guess the significance of others. 
She let every student do the activity, and then put her own number, "131," on the white board for students to guess the meaning of. 
"I thought that it was kind of obvious maybe, and one of my students kind of paused, but then made a joke. She said, 'Does that mean you're 130 years old?' and we all cracked up,"' Tan said. "And it's funnier in Italian, but I appreciate that moment…that showed me that my students can joke with me, that they're not fearful of me…and that's really important to me.
Senior Tiffany Pardo, who serves as a teaching assistant for Tan and went through the Italian program as a student, expressed confidence in her. 
"It's a lot of responsibility for her, especially because it's her first year, but she's more than capable. I know she can handle it," Pardo said. 
Senior RJ Hunsaker, an Italian 3 student, also recognized Tan's effort to center the Italian class around group lessons and engaging activities, even as Tan learns the ropes of the program.  
"She has been great. I have sympathy for her because she's the only Italian teacher this year. I can definitely imagine that [four curricula] is a lot," Hunsaker said. "[But] she has been very energetic…keeping us engaged. There's almost rarely any time where you're just sitting there and reading a textbook, which is nice."
Along with her students, the now-retired Wemple has helped uplift Tan and pass the long-standing Italian program's torch. 
"I'm really proud to be doing this. I'm very happy," Tan said. "I've been super grateful for Ms. Wemple because she's been supporting me since day one. She's been a generous, kind mentor in that she makes it a point to remind me that, 'if you don't like how certain things are, change it,' and I really appreciate that kind of encouragement. For her trusting me to take over, that's a big deal."'
Despite the steep learning curve, the turbulence that comes with a new job and the stress of juggling four different curricula, Tan needed just a few short words to explain her perseverance:
"I can't imagine doing anything else I would love this much," Tan said.
Leave a Comment
Donate to The Burlingame B
Your donation will support the student journalists of Burlingame High School - CA. Your contribution will allow us to purchase equipment and cover our annual website hosting costs.
About the Contributor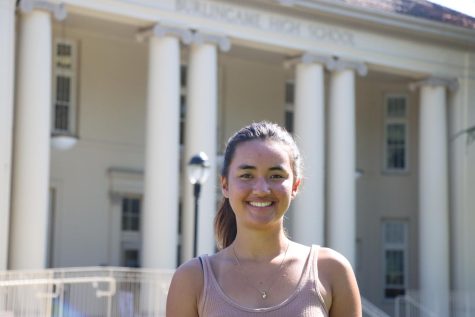 Michelle Moshkovoy, Sports Editor
Michelle Moshkovoy is a senior and a third-year journalism student at Burlingame High School. She is excited to be sports editor this year, delving deeper...