'Avatar: The Way of Water' makes an underwhelming splash
Warning: Spoilers ahead
For many cinema aficionados, it was a good holiday season. Movie-goers put away their cheesy Hallmark flicks and Charlie Brown reruns, racing to the theaters for the much-anticipated sequel to the 2009 cinematic hit "Avatar," which dropped mid-December.
The animated movie, directed by Canadian filmmaker James Cameron, stars many actors from the first film, notably Sam Worthington, Zoe Saldana and Stephen Lang. 
The movie starts with a significant time jump on Pandora, a fictional moon that can support extraterrestrial life, where the main protagonist Jake Sully and his wife Neytiri are building a family. 
While the couple have children of their own, the movie centers around two other newly-introduced children. It is revealed that Dr. Grace Augustine, who Sigourney Weaver portrayed in the first film, is in a state of catatonic stasis, for unknown reasons. Despite those circumstances, she — in her avatar form — gave birth to a daughter. This daughter, Kiri, is adopted by Jake and Neytiri. Although this plot twist abruptly introduces a new character with very little backstory, it still connects to the theme of family — a key focus of this production. 
Another character that joins the "family" is a boy named Spider, the son of Colonel Miles Quaritch, the main antagonist in the first installment. Although he is still a human and doesn't possess the same features as the Na'vi, Spider grew up close to Sully's family and has adapted to their culture. Although this adds to the throughline of family and connection, it does nothing to add onto a more interesting story. These introductory scenes expose the audience to Sully and his Na'vi tribes' peaceful and carefree life.
While this scene may seem idyllic, it is clear that conflict is imminent as the focus shifts to incoming human spacecrafts, where we are re-introduced to Colonel Miles Quaritch. At first, this seems impossible — Quaritch was killed in the previous film. But the audience quickly learns that Quaritch's behaviors and memories have been reproduced in avatar form to clone the deceased character. Recycling the antagonist felt like a lazy, stale way to progress with the overall plot. With essentially no new characters except for the children of Jake Sully, this movie opens as an almost identical series of events from the first movie, and almost no originality. 
Quaritch and a squad of avatar-resurrected soldiers are there to ensure the safety of earth outposts and eliminate any threats from hostile groups. The humans hope that by imitating the Na'vi it will make colonization and expansion easier on Pandora. After identifying the leader of the rebel attacks from the Na'vi as Jake Sully, Quaritch is determined to take down him and his family as by any means necessary. As a result of his efforts, Sully takes his family out of their home and seeks asylum at one of the villages of the ocean Na'vi. While they initially have trouble adapting to their new life, the family manages to find a rhythm and maintain peace in the islands — except for Lo'ak, the youngest son of Jake and Neytiri. 
Lo'ak, portrayed as the stereotypical rebellious younger brother, has a short temper that does more harm in this new environment. Lo'ak lashes out at the son of the chief in defense of Kiri. To retaliate, the other ocean Na'vi leave Lo'ak behind as a cruel joke. This tense situation leads to Lo'ak being attacked by an ocean creature. However, he is saved by a Tulkun — a highly intelligent whale-like creature — called Payakan. 
This creature forms a unique bond with Lo'ak as they are both outsiders in their respective communities. This connection that Lo'ak creates with Payatan is an integral part of his growth as a character because it makes him feel less alone. Although this sudden shift from destructive chaos to peaceful moments of calm in the movie seems a bit forced as there is so much chaos going on around the other plot points, I think that the quiet moments of connection, exploration and calm within this small community emphasizes character development and allows the audience to consider the perspectives of different characters. Despite that, this strategy adds no substance to the intended plot and creates two parallel plotlines that don't connect at all. 
As efforts by Quaritch intensify to find Sully and his family and kill them, the use of violence and fear also intensifies, showcasing the extent to which the humans will go in order to eliminate one Na'vi: Jake Sully. 
When the children are taken hostage on an enemy ship, Sully is forced to turn himself in. However, in a shocking series of events, the tension erupts with an adrenaline-filled action sequence, where the ocean Na'vi tribe aid Sully and Neytiri in their fight to quell overwhelming human forces. Through this chaos, the couple's two boys, Neteyam and Lo'ak, are able to free their siblings and get them to safety. 
Despite their success, in an emotional (although predictable) reveal, it is shown that Neteyam was shot during the scuffle on the ship and he dies shortly after with his family around him. This gut-wrenching scene is filled with the grief of the entire family, and Neytiri is inconsolable. 
An immense loss so late in the film was inevitable. Throughout the movie, Neteyam has been portrayed as the responsible oldest brother who acts as a leader for his siblings due to his experience out in the world. So, this central role he takes on in order to keep his own brother in line sets up the idea that Lo'ak needs to learn to grow up; in order for him to do that, Neteyam must pass that role onto him. 
Even though this loss is a monumental blow to the family, they are intent on defeating Quaritch. After another nail-biting sequence where they are stuck on a sinking boat, they make it out and in the end are able to claim a victory. In the dying shots of the movie, the Sully family is seen moving on from their grief in the aftermath of Neteyam's death and adapting to their new lifestyles on the islands. However, the movie leaves viewers with one last cliffhanger, leaving room for future installments: Quartich is saved by Spider, and although his son does not join him, Quartich escapes. 
Although this movie was projected to be a fan favorite in theaters around the world, I felt that the film itself lacked a unique plot line that separated itself from its predecessor. By producing a plot that centered around the reemergence of humans on Pandora and the modified "clone" of Colonel Miles Quaritch, it sets up the film for a long series of scenes that oscillate between the importance of familial bonds within the Sully family and intense spans of violence and destruction that occur as a result of Quaritch's relentless goal to kill Jake Sully. Although there were some moments of growth, those were overshadowed by the intensity of frequent action scenes that were scattered, loud and just felt like fillers. Overall, I think that a weak storyline, heavy reliance on CGI effects and bland artistic composition of scenes made the film a disappointment.
Leave a Comment
Donate to The Burlingame B
Your donation will support the student journalists of Burlingame High School - CA. Your contribution will allow us to purchase equipment and cover our annual website hosting costs.
About the Contributor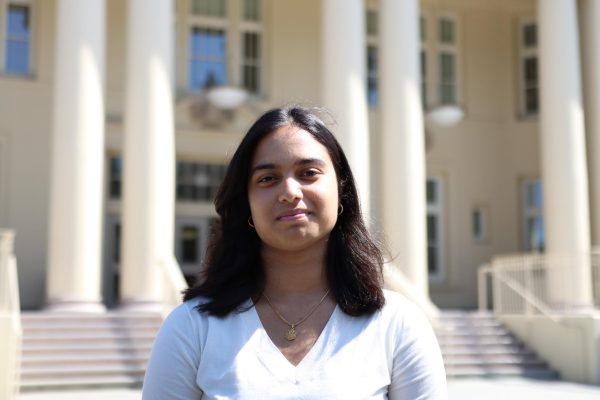 Arshia Chakravartti, Copy Editor
Arshia Chakravartti is a senior and a third-year journalism student. She is an avid reader and writer who is excited to continue her role as a Copy Editor...