Wrestling runs away with dominant win against Hillsdale
In their last dual meet of the regular season on Feb. 2, Burlingame's wrestling squad went head-to-head against Hillsdale High School, triumphing with a final score of 64-14. 
An away environment can often create a host of problems for any team. Yet even in foreign conditions — lacking an overhead spotlight, an energetic home crowd or a working scoreboard — Burlingame maintained form and went to work.
The performance highlighted the squad's strength in numbers — a recurrent assent throughout the season. Hillsdale had to forfeit five of the 14 total matches. Even so, Burlingame put on a show, scoring five pins in the nine remaining matches.
Notably, freshman Quincy Yu displayed his development since the beginning of the season. With just three months of wrestling experience, the 184 lbs class wrestler showcased his skill against a tenured Hillsdale senior. 
By the time the first period buzzer went off, Yu was already imposing his will, sporting a 2-0 lead and sending his opponent off the mat to be tended to by a trainer for an apparent injury to his head. Soon after, Yu made a savvy move, flipping his position in a flash to once again gain control. Up 5-0 in the second period, Yu pushed through to get the six-point pin and put Burlingame up 49 points.
Yu's performance reflected a trend for the night: the youth of the team headed the Panthers' charge. Eight out of fourteen matches included Burlingame underclassmen, with five of them coming out on top. The rest were all wins by juniors who will return as key wrestlers in the future.
"Every match you want to get better, and that progression was on display tonight," head coach Ernesto Nuñez said.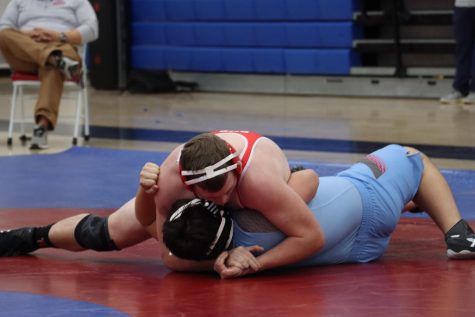 "Improve, improve, improve," was the goal all season long for Nuñez and the squad. Now, as they shift their focus to the postseason, the time for adding new moves to each wrestler's arsenal may be over. However, continuing to keep the intensity and focus high in practice is imperative to ensuring the team's future success. 
"The main goal going into the last couple of weeks is: let's fix our mistakes," Nuñez said. "A lot of these wrestlers video their matches, so we'll watch positions and missed opportunities, then go over that and hope it sticks in their minds so we don't make mistakes over and over again."
With a successful turnout at the PAL championships under their belts— including multiple podium finishes and a league champion title awarded to junior co-captain Aruika Purev-Chang in the 128s class — and the Central Coast Section playoffs fast approaching, the Panthers have their sights set on putting Burlingame wrestling on the map this year. But, for a  squad dominated by young talent, expect the momentum to roll straight into next season.
"I've got high hopes for these guys," Nunez said. "They want it and we're headed in the right direction."