7,000 miles away, impact of Turkey-Syria earthquake reverberates for students
For most Burlingame students, the impact of the earthquake that hit Turkey and Syria on Feb. 6, taking an estimated 47,000 lives, has been reduced to images on social media of pulverized houses, orphaned children and heaps of bodies beneath rubble. While these scenes are shocking and disturbing, they don't sufficiently capture the feeling of dread hanging over the two countries.
But some, like sophomore Inci Yagmurlu, must face the true terror of the situation. Yagmurlu has friends and extended family who live near the earthquake zone and heard their accounts of the region's indescribable loss. 
"They're saying it's 47,000 [people killed] but it feels like a lot more than that," Yagmurlu said. "My dad's friend died, my friend's friend died — so many people were affected."
The 7.8 magnitude earthquake not only shook Turkey and Syria but was also felt in neighboring countries, bringing an abundance of sorrow and loss in its wake. 
"People have lost everything," Yagmurlu said. "Their families, friends, homes — it's all gone."
According to Aljazeera, the earthquake is estimated to have directly impacted 20 million people in Turkey and 8.8 million people in Syria whether that be because they were killed, injured or had their homes destroyed.
"The situation sounds really, really horrible," Yagmurlu said. "But it's so much more terrifying than we realize."
Along with the immense loss of life, Yagmurlu felt a profound sadness in witnessing cities, once brimming with culture, get destroyed. 
"There were so many castles and beautiful sites that tourists would visit," Yagmurlu said. "Now almost all of this culture is destroyed."
Junior Sammy Faham, of Syrian descent, is also particularly devastated by the earthquake. 
"Syria already had to deal with the [Syrian] Civil War and already had to deal with buildings being blown up and everything,"Faham said. "So this earthquake just piles on."
The earthquake occurred in a region of northwest Syria where rebels are fighting the government's rule. Faham explained that the government is hesitant to give assistance to that area because they don't want to bolster the rebels' cause against the government's regime.
"There's always the question of, 'If this happened somewhere else, would there be more help and support from other states?'" Faham said. 
Although organizations haven't wasted a moment to provide relief for those affected by the earthquake, the World Health Organization estimates that 26 million people across both Turkey and Syria still need humanitarian aid. We can all take small steps to support their cause, whether it's giving money or just raising awareness.
"It would be amazing if we all could donate money or send clothes to help these people," Yagmurlu said. "Even though it happened two weeks ago, it's never too late to help."
Burlingame students Kaya Tunca and Arda Inegol, both of Turkish descent, have acted independently to further the cause. They are holding a school-wide fundraiser in collaboration with the nonprofit organization "Empowering the Turkish American Community" in an effort to gather money for the earthquake victims.
"Hopefully we raise a good amount of money to send over food, shelter, water, electricity and all the basic necessities for them to stay afloat," Tunca said. 
Although they didn't experience the earthquake themselves, watching their country face such a horrific disaster was devastating, which inspired Tunca and Inegol to take action.
"My home just suffered a big hit," Tunca said. "And it feels like the right thing to do for me is to step in and try to at least make a small impact."
Leave a Comment
Donate to The Burlingame B
Your donation will support the student journalists of Burlingame High School - CA. Your contribution will allow us to purchase equipment and cover our annual website hosting costs.
About the Contributor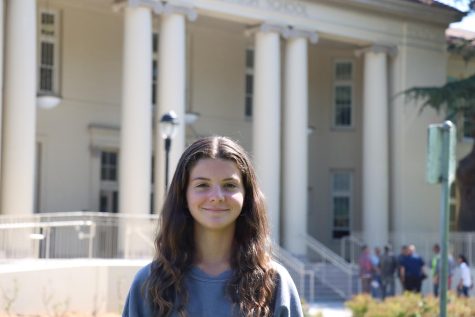 Joelle Huysmans, Staff Reporter
Joelle Huysmans is a freshman at Burlingame High School and a first-year journalism student. Outside of school, she enjoys playing tennis, spending time...