El Camino eucalyptus face major removal and replanting
After years of collaboration and planning, Caltrans and the City of Burlingame have finalized a plan to remove and replant most of the eucalyptus lining El Camino Real as part of the El Camino Real Roadway Renewal Project. The design and construction will start in the summer of 2024 and will be completed in 2026.
The project has faced its fair share of obstacles. Collaboration started all the way back in 2017, when members of Caltrans, city council members Michael Brownrigg and Emily Beach, along with other city officials and community members, joined together to create the El Camino Real Task Force.
"We sat with Caltrans and we sat with tree experts, and we tried to figure out how we could do two things. One, make the road make El Camino safer for pedestrians and for motorists and for cyclists but also two, protect the canopy," Brownrigg, the city's current mayor, said.
It doesn't take long driving or walking on the Burlingame stretch of El Camino Real to notice the street's issues. Sidewalks are nearly impossible to walk on and not compliant with the Americans with Disabilities Act (ADA), cracks and potholes run throughout the road, the sightlines are terrible — not to mention the risk of flooding, which has been exacerbated by the recent rain storms. All of these problems are rooted — so to speak — in the street's iconic eucalyptus trees —  essential to Burlingame's character and moniker as "The City of Trees." 
The Plans
Although Caltrans owns and oversees the project because El Camino is a state road, the city government has worked to ensure that road will not be widened to a six-lane highway, and that some of the original grove of eucalyptus will remain. They have also mandated that, even though many eucalyptus will be removed, just as many new trees will be planted in their place.
Specifically, city officials are recommending that Caltrans replace the Blue Gum species with Eucalyptus Citriodora, a variant with thinner trunks. This would allow for better sight lines on El Camino, but still provide the tall growth and thick canopy of the Blue Gums.
"We've been discussing and figuring out how to best approach [remodeling El Camino] so that we preserve the historical character of the tree grove and replant it in a way that will be beautiful for future generations," Beach said.
The History 
The grove has been important to Burlingame for generations. First planted in 1870 to make moving to Burlingame more appealing, the corridor of Blue Gum eucalyptus has been a staple of the town for over 150 years. Even when Millbrae and San Mateo got rid of their trees in favor of a widened street, Burlingame kept its urban forest. Burlingame Historical Society president and member of the El Camino Real Task Force Jennifer Pfaff recognizes that though the removal may be necessary, it's still sad to lose a major part of Burlingame's history.
"[The trees] are the character of our city, and people for hundreds of years have known us by that character, so it's scary and sad," Pfaff said.

The Problem
Despite the importance in character, many feel that it's time to leave the eucalyptus behind after the significant road damage and flooding they have caused. Motorist and Burlingame senior Anna Way had her tire punctured while driving on El Camino by a eucalyptus root jutting into the road.
"Every single time I drive past that spot where I got a flat tire, I always switch lanes, and it could easily happen to anyone," Way said.
It's not just dangerous to motorists, though. Under heavy winds, the tall eucalyptus trees can become unsteady and pose a threat to pedestrians and buildings. At the beginning of 2023, a eucalyptus fell across the Caltrain tracks. Luckily, the damage was minor. However, in the recent windstorms on Feb. 21, a eucalyptus fell over in the Easton Addition, hitting a house and knocking out power for a significant part of the neighborhood. 
While no trees have fallen on El Camino in recent months, these scenarios show why keeping more of the original grove is not possible. Implementing sidewalk meandering — curling the path of the sidewalk around the trees —  could destabilize the trees, and the updates to El Camino planned by Caltrans will certainly require the removal of the trees whose roots have disrupted the road. 
The Future
When multiple trees on Easton Drive became unstable, the city removed them, significantly changing the complexion of the street.  However, only removing some of the trees on El Camino Real is not an option. The blue gum relies on those around it for wind protection, meaning a partial removal would put El Camino in danger. While Caltrans and the city have worked to save as many trees as possible, they have estimated 90% of the trees need to be removed either due to destabilization or a current threat. 
"As [Caltrans] are going through this they're evaluating that there are certain tree groves that they can preserve and meander around and kind of also give better line of sight," Beach said. "There are certain trees that need to be removed because they're just in the way and they're going to be destabilized with the construction."
While it may take a few years, the canopy and character of "The City of Trees" will return. And this will happen while El Camino is made safer, more accessible to pedestrians, resistant to flooding all while remaining just four lanes.
"Yes, some of the trees — not all, but many of them — are going to come down. But they are going to be replanted and long range, I don't believe it'll change the character. I think it'll make El Camino more beautiful. It'll make it safer," Beach said.
Leave a Comment
Donate to The Burlingame B
Your donation will support the student journalists of Burlingame High School - CA. Your contribution will allow us to purchase equipment and cover our annual website hosting costs.
About the Contributor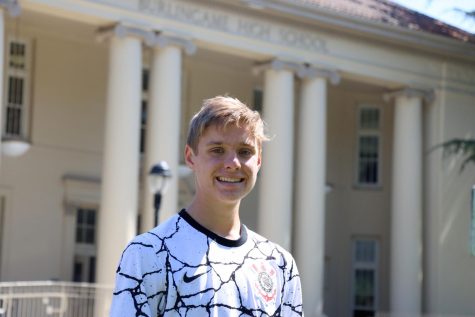 Alex Kelly, Business Manager
Alex Kelly is a senior at Burlingame and this is his third year in Journalism. He is excited to be leading the B this year in their business endeavors....