Track and field shakes off rust and dominates in first meet of the season
Track and field's 2023 season is off to the races after its first league meet of the year, where the team competed against athletes from Capuchino High School and El Camino High School on Friday, Mar. 17. 
The opening meet of the season, which many runners considered a "rust buster," served as warm-up and preparation for subsequent meets to follow. 
"My main goal was to establish [a] baseline for the rest of the season," junior Mason Rosales said. "I was out for a month with a sickness that prevented me from running. [This meet] is just to see how we're doing because I got to start working out only a couple of days before. [The meet] just shows where we need to go from here."
Even though runners saw the first meet as an opportunity to evaluate where their conditioning stacks up relative to other competitors, make no mistake — the Panthers showed out. 
Junior Raymond Frank placed first in men's varsity 200 meters, logging a strong time of 23.85 seconds in the process. Junior Isaac Van Voorhis took home the men's varsity 1600 meters title in a time of 4:56.88, matching his personal record of 4:56.38 from last year.
In the men's varsity 400 meters, Burlingame runners continued their dominance, with Frank, junior Jake Rothstein and junior Jake Ramirez sweeping the podium — a true testament to the team's overall success. 
"The teamwork and camaraderie [make us] compete at the highest level to help [our] team win," Rosales said.
The Panthers placed first in both men's varsity relays over the Mustangs, while Senior Anthony Leung earned first place in the men's varsity long and triple jump events. 
At the frosh-soph level, Burlingame's distance runners impressed, with sophomore Ian Maxwell and freshman Ryan Liu placing first in the 800 and 1600-meter events, respectively. 
On the girl's side, junior Avah Reichow took first place in the varsity 100 meters. Freshman Stella Newman, returning from an incredible cross-country season, took home the varsity 400-meter title. Junior Ava Gonzalez logged a personal record on her way to winning the varsity 800 meters, and junior Elise Spenner was victorious in the 1600-meter event.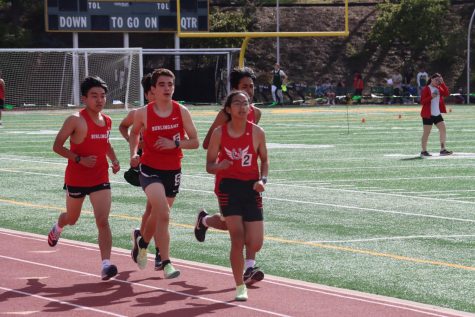 "I think most of them performed very well," head coach Chris Coleman said. "[For] a lot of them it was their first time running in their events, and overall, the team performed better than expected."
Coleman noted the strength of both relay teams and was impressed with the new runners, such as freshman Maliha Moran, who competed in multiple events ranging from relays to long jumps. 
"[They have] the ability to try something new," Coleman said. "We have people trying new events, we have new runners who are doing things for the first time, so I think the ability for people to try something new is impressive right now."
Burlingame will continue to build off its early season success and use the season's first meet as motivation to improve the squad's results. 
"I just need a week or two to get my feet back under me. I need to keep running through all the motions, making sure I'm consistent," Rosales said. "That should lead me to a better performance."
Coleman also referenced the importance of continuous improvement in practice as the team readies for future meets. 
"The goal in practice is to continue to get better with our jumps and our running, or handoffs for relays, and all the technical stuff," Coleman said. "From now through the end of the season, it's about refining everything [and] commitment and development to the regular workouts we set. That's really what we're focused on, and that's what's going to make everybody better."