Boys' varsity lacrosse clinches emphatic first win in league play
There was no clear favorite heading into boys' varsity lacrosse's (3-4 overall) matchup against Carlmont High School (2-3 overall) on Thursday, April 6. With Burlingame coming off a three-game losing streak, both teams hadn't yet clinched a league win, although Carlmont had fared better against league No. 1 Menlo-Atherton High School.  
However, as soon as the whistle blew, Burlingame was in control, with senior Joey Nawrocki easily winning the face-off and sophomore Henry Bradley getting a quick attempt on goal. 
Seconds after Carlmont crossed the center line, Burlingame stole the ball back, leading to a goal from senior Jacob Maslenko. That offensive domination would set the tone for the rest of Burlingame's 11-3 blowout victory, with the Panthers holding Carlmont scoreless until the third quarter. 
"I wanted to be ready for the Carlmont that put up six points against Menlo-Atherton. I wanted to be ready for them on their best day," head coach Logan Brown said. "I saw one of two outcomes, either A: we did what we did, or B: didn't focus and didn't execute. I'm glad that today we focused and executed… I'm super proud of the team."
Throughout the Thursday night matchup, Burlingame's confidence remained high. But most importantly, the team's communication led to solid passing and, consequently, many scoring opportunities with a total of 39 shot attempts.
"Yesterday was definitely the best [communication] we've had all season, which helped us get that win," said senior midfielder Hayden Wilson. "Just calling out [your] man, who you're guarding, cuts, and just making sure everyone's on the same page."
Part of Brown's offensive strategy involves getting everyone on offense to get shots on goal, which leads to a variety of scorers. None of the nine players who contributed goals against Carlmont scored more than three times.
"We have been trying to make sure that [there is] never any single person who is putting up all the points," said Brown.
Some of the stand-out players from the match, however, were senior captain Archer Grenier and first-year player senior Rohin Young. Both of them converted two goals out of three attempts. Joey Nawrocki also provided another offensive spark, helping the team win 11 out of 15 face-offs.
On the defensive end, Brown employed a man-to-man defense which proved effective against Carlmont, allowing only three goals.
"We went on to man defense because we knew they weren't as strong as other teams, so [we] locked [them] up on man defense, making sure they can't cut through and just make sure we're loud and talking and communicating," Wilson said.
The Panthers play their next game away at Palo Alto High School on April 13, and if they perform as well as they did against Carlmont, it could make for a close game.
"Tonight we played as a team, we won as a team and the guys are growing closer and closer," said Brown. "It's everything that I can hope for to make sure that they're having the best season… and making sure that they are playing as a family."
Leave a Comment
Donate to The Burlingame B
Your donation will support the student journalists of Burlingame High School - CA. Your contribution will allow us to purchase equipment and cover our annual website hosting costs.
About the Contributor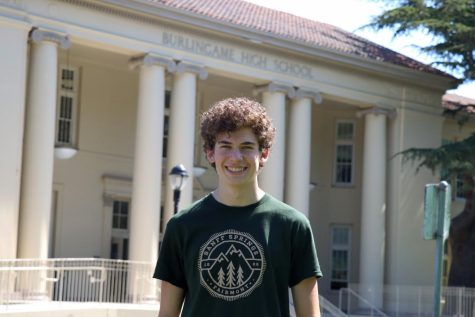 Jake Rothstein, Head Photographer
Jake Rothstein is a Junior at Burlingame High School and is a second-year student in Journalism. Jake is excited to be the new head photographer for the...