Review: Twelvemonth, Burlingame's new blockbuster restaurant
Burlingame residents and culinary gurus alike have been awaiting the grand opening of Twelvemonth. Having been under construction for so long, many people had started to doubt its arrival; however, the wait is now over as the owner, Bob Trahan, finally opened the doors to guests on March 8.
One of the main goals of Twelvemonth is fostering a better connection with the planet with their entirely plant-based menu serving only locally-sourced menu options.
When first reviewing the menu, it's easy to feel a slight disappointment over the few options, with no more than 12 main course dishes to choose from. But, rest assured, everything on the menu is shareable, allowing parties to try more than one dish and experience a variety of seasonal creations. The title Twelvemonth comes from a unique feature — the menus switch every season of the year. Currently, they're serving the winter menu, with a spring selection on the way soon.
On Saturday, March 25, I visited Twelvemonth to try different items on the menu, including drinks, starters, main courses, and of course, desserts. Kicking off my experience, I ordered a drink off the "Zero Proof" (non-alcoholic) section: the Cara Cara Creamsicle, a refreshing mix of orange juice, vanilla bean, lemon stock and effervesces for the price of $9. I loved the drink's aesthetic, with a neon yellow color and a dried Cara Cara orange slice as cup decor. This drink lived up to its enticing description — it tasted like Sprite, but with a fresher and tangier taste.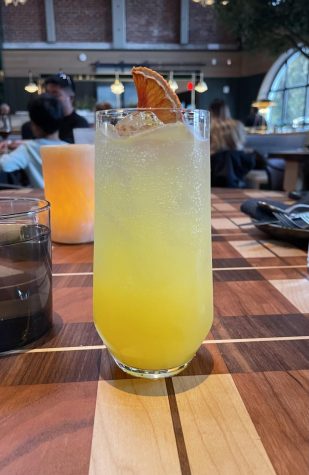 Following the drinks, we ordered the Parker House Rolls, which were not your average bread and butter starter. The quartet of rolls were doughy and soft, breaking apart easily. The butter paired with them nicely, adding a savory addition when melted on the rolls.
From the "Small" and "Large" sections of the menu, we ordered the chicory salad, bean stew and cavatelli. As noted on the top of the menu, our dishes arrived in the order the chef deemed most thoughtful. Our first dish was the bean stew. It was an average soup, with beans, kale, focaccia and tomato broth. I have to say, I was a bit disappointed with the portion — it was barely enough to serve two people. Nevertheless, the ingredients complemented each other nicely and was a pleasant way to begin our meal. Next came the chicory salad (my personal favorite), consisting of pears, feta, nuts and cranberry dressing. There was an unexpected sour flavor that caught me by surprise but really added to the overall taste. Not to mention, the presentation was eye-catching, and I couldn't help but admire the food before digging in. For the last part of our main course, we ordered the cavatelli pasta. This dish was the first one that caught my attention from the menu, and the one I was most excited to try. With ingredients like squash, pesto and parmesan, it seemed like it was a shoo-in. After trying this dish, I was content, but felt that it had wasted potential. I wished there was more of a pesto taste, as it was the main ingredient. On the other hand, it was delicious and I would definitely order again. I mean, you can't really go wrong with pasta.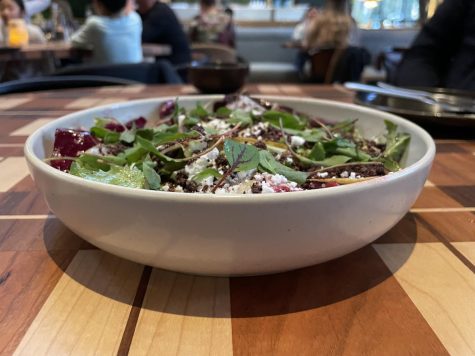 Finally, after trying all of those dishes, the most exciting part of the menu had arrived: the desserts. I ordered two of the items, the fried cookie dough and brownie batter. These last two dishes tasted exactly like they sound — absolutely delicious. I have no critiques and enjoyed every bite of them.
Aside from the menu, the atmosphere is truly one of a kind. The layout is beautifully decorated, with hints of green and gold, eco-friendly chairs and lighting fixtures that embrace the restaurant's environmentally conscious morals. It's a unique dining experience in comparison to restaurants currently on Burlingame Avenue.
Contrary to popular belief, Twelvemonth is not entirely open for business yet, having launched 'soft openings' over the past five weeks to test and review feedback on its service, atmosphere and, of course, menu.
The reservation availability is very limited, so it's important to book one as soon as possible, with weekly reservations opening on Monday evenings through the link in their Instagram bio via their website. Currently, the Twelvemonth team is unsure of when their grand opening will be, as they are still finalizing different aspects of the restaurant to make their customers' experiences as enjoyable as possible.
Overall, dining at Twelvemonth was a wonderful experience and I highly encourage students and their families to try it out. The meals and atmosphere are unlike anything I've experienced in a fine dining setting before. It's clear the amount of dedication and hard work they put into their restaurant, and their efforts have certainly not gone unnoticed, with Twelvemonth already receiving many positive reviews from happy guests. I am positive this will be a huge hit in the Bay Area and I'm excited to see what their future holds.