Girls' lacrosse storms (or screams) to top of WBAL
No one, not even head coach Phil Wang, expected Burlingame girls' varsity lacrosse to be undefeated in the WBAL Skyline Division (10-0) with a week left in league play.
Their star player, senior Elizabeth Fitzgerald, who head coach Phil Wang said would have been a "handful for every other team in the league" hasn't stepped on the field this season. Their goalie, sophomore Alice Lee, is playing her first season of lacrosse. Some of their players had never touched a stick before this year; others have been scooping up ground balls since they could walk. The team is led by a consistent squad of seniors, but they are outnumbered by a flock of boisterous freshmen and sophomore upstarts.
"My expectations were… not this," Wang said. "My expectations were for a winning season, but it was tough."
"
My expectations were… not this.
— Phil Wang
It certainly hasn't been easy. Burlingame has won five of its 10 league games by just one goal, including two overtime victories. During a number of the Panthers' wins, they have trailed their opponents until late in the second half. In other words, there are many alternate universes in which the Panthers are far from undefeated.
But in this particular universe, Burlingame refuses to lose. When the team is trailing, or struggling to find a rhythm, they employ the "scream circle" — which is exactly what it sounds like. Senior and co-captain Mimi Cacciato turns to her right, screams in her teammate's face, and then, like a very loud game of telephone, the message is passed around the circle. 
The screams were loud in Burlingame's April 19 match-up — also their senior night — against Woodside Priory School, in which they came back from a first half deficit to win 14-9. 
Like many of Burlingame's league victories, the game was a nail-biter. In the first half, the Panthers struggled to win draws against Priory's star, junior Stella Axe (who is committed to the University of Richmond), and weren't able to convert many of the scoring opportunities they did get. Burlingame trailed 7-5 at the half. 
Thankfully, the Panthers are a second-half team. More importantly, perhaps, senior Mimi Cacciato, the team's co-captain, wasn't ready to lose on their senior night. Cacciato, who leads the team in goals this season, scored six crucial points to take Burlingame on a 9-2 tear in the second half. 
"I had a little bit of a mental block the first half," Cacciato said. "And I went out and coach Gray actually said to me, 'I've seen what you can do before and you know what you can do'…I think it really helped me get my energy up and realize, 'This is my last game at home; I'm going to show out for the team, for myself.'"
Burlingame's young talent followed Cacciato's lead. Sophomore Reese Johnson tacked on two goals of her own, freshman Haleh Ansari started to dominate on draws and sophomore Miranda Sibley contributed three assists (she leads the team with 25 this season).
But sophomore Alice Lee, Burlingame's first time goalie, stole the show. She was impenetrable on the opposite side of the field, holding Priory to just two goals in the second half. Lee totaled eight saves in the game — few watching would have guessed that this is her first season playing lacrosse.
After the game, despite Cacciato's string of goals, Wang's first shoutout went to Lee: "She's getting better and better and better," he told the team.
Two days later, in an away game against Sequoia High School, Lee performed even better — and just in time. Burlingame jumped out to a 7-5 lead at halftime but was stymied on offense in the second half, scoring just one goal. As the Ravens closed in on the Panthers, Lee fielded off a barrage of shots from the Sequoia offense. By the end of the game, Lee tallied 16 saves — doubling her previous season high from the Priory game, and helping the Panthers squeak by with a 8-7 victory.
"I think she had two or three of them late in the game, and we were winning by a goal," Wang said. "So that really fuels the momentum for the rest of the team that everybody gets fired up when she does that. And she's just doing it more and more."
To elevate Lee's game as quickly as possible, Wang enlisted the help of the former boys' junior varsity coach, who was once a goalie for the Palo Alto Ducks, a post-collegiate men's club team. He works individually with Lee during Tuesday practices, honing her technique and shifting her mindset.
"He said goalies have to have short term memories, which is really helpful because I never remember anything when I'm in goal," Lee said. "Focusing on the ball and not getting too caught up in what's going on around me."
Although it was their senior night last Wednesday, the Panthers' season is far from over. With any luck, Burlingame can pull off two more wins against league No. 4. San Mateo High School and No. 2 Woodside High School to take home its first WBAL title since 2017.
Earning a CCS berth won't be quite as simple for the Panthers — unlike more popular sports, girls' lacrosse has six league divisions, each with between six and ten teams, which feed into just one CCS bracket. To claim a spot in that bracket, Burlingame will have to win, and then win, and then win against a team from the top-tier WBAL Foothill Division. 
But if head coach Phil Wang has learned anything this season, it is not to bet against this team. Not this season. Not this group of girls.
"I think the legacy," Cacciato said when asked about why this season is so special. "Knowing that this year, this team — there's never gonna be a team like it, and we've made such an impact… I'm just really proud of how far we've come and to walk away knowing that each one of my teammates and myself put it all on the line and succeeded."
Leave a Comment
Donate to The Burlingame B
Your donation will support the student journalists of Burlingame High School - CA. Your contribution will allow us to purchase equipment and cover our annual website hosting costs.
About the Contributor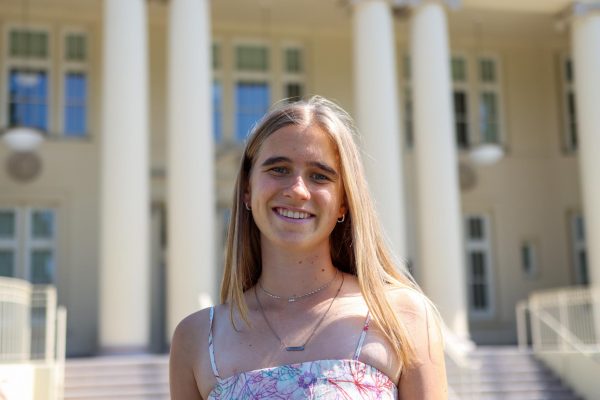 Elise Spenner, Editor-In-Chief
Elise Spenner is a senior at Burlingame High School and is so excited to be this year's editor-in-chief. When she's not reporting on investigative pieces,...