Boys' golf wins against Woodside en route to league title
On Monday, April 24, the boys' golf team (12-1 PAL Bay) claimed its second resounding victory over Woodside High School, winning the match 198-233. 
The Panthers were dominant in their fifth victory at the Half Moon Bay golf course, where skill and familiarity with the course helped them break 200 strokes for the second time this year —  a goal they had at the beginning of the year. 
"We've been consistent all year, [and] at Half Moon Bay, these guys like playing here," coach Jon Ramirez said. "There's something to [be said] for a course that fits the golfer's eye."
But Burlingame certainly didn't win just because of the course. The team has been performing at a high level all year, and they won their second match against Woodside on Tuesday to clinch the league PAL Bay division title. After a close second-place finish last year, the Panthers prevailed with a near-perfect record and consistent play, winning Burlingame's first outright title since 2004.
On Monday, one golfer who played with a league championship mindset was sophomore Zach Newman, scoring the low round of the match at 36 strokes, even par. Newman had two birdies and two bogeys on the day, missing a short putt on hole 9 to fall just short on a round of one under par. 
"I made a lot of four-footers and was able to keep my score low, and I was able to keep my emotions in check," Newman said.
Another stellar performance came from freshman Ethan Cyb, in his first varsity match all year. While the pressure might have gotten to many young golfers, Cyb posted a score of 42 strokes, low enough to count as one of the five recorded scores in the match.
"There were multiple times where I was staring at a bad score in the face and I was able to make some clutch putts," Cyb said.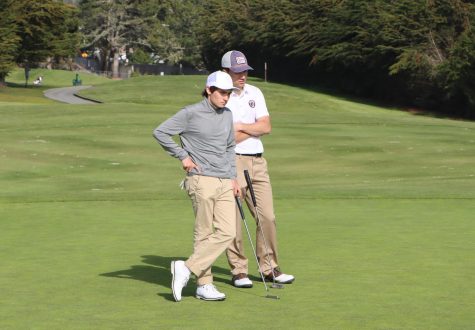 Cyb also received help from his freshman match partner Cole Weyer. The two freshmen worked well together, helping each other read putts on the greens. 
"I was feeling some pressure, especially from the coaches, but I was playing with another freshman who's played in a lot of matches, so it was great to play with him and have that experience alongside me," Cyb said.
It wasn't just the freshmen who were paired together for the match. Sophomores Newman and Ian Lai assisted each other, and for the first time in their four years together at Burlingame, seniors Andres Valldejuli, who shot 38, and Charlie Galenter partnered for a match.
"It's about personalities, and then also matchups," Ramirez said. "I think the seniors have always been asking me, 'Can we play together?' and I thought it was a good time for us to pair Andres and Charlie up."
After their final league game against Carlmont, the team will play in PALs next week on Tuesday. Because they have clinched the league title, Burlingame will automatically qualify for CCS, playing their first match the week of May 8.