Boys' swimming impresses at PAL finals
In the final event of the 2023 PAL Bay Division Championship Meet, sophomore Andrew Lee, the opening leg of Burlingame's 4×100-yard free relay team, dove into the Menlo-Atherton High School pool, surrounded by a crowd of cheering red swimsuits. It was the team's final opportunity to swim under 3 minutes and 30 seconds and qualify for the CCS championships.
Each swimmer entered the water, accompanied by the growing chants of "Burlingame!" that echoed around the pool deck. As senior Tarik Burlingham, the team's anchor, sprinted the final 25-yard length of the relay, the clock ticked: 3:27, 3:28, 3:29. He touched the wall, and the clock stopped: 3:30.75. The team had dropped 3.3 seconds from their previous best, but they missed the CCS qualifying cut by under one second.
"We made incredible progress, and I think that's a testament to everyone on our team coming to every practice club or high school and really swimming their hearts out. It was — it's been — an amazing journey with that," Burlingham, the team's co-captain, said after the race. 
During the relay, Lee was also chasing a separate CCS time standard for the individual 100-yard free. As the opening leg, his time counted officially, but he fell short by an even smaller margin — seven one-hundredths of a second. He was, literally, a fingernail away.
"[If] there's anyone that I think I'm the proudest of, it's absolutely him," Burlingham said of Lee. "He's made absolutely astounding progress, and he's been happy doing it and he's supported all of us doing it. I have a recording of the race, and you can see Andrew realizes that he didn't make his individual cut and immediately gets out and starts cheering for the other members of the relay."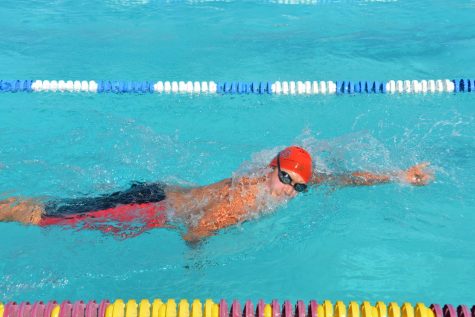 Despite the boys' relay failing to qualify for CCS, senior and co-captain Claire Guglielmi agreed that their journey up to that point was one of the highlights of the season. 
"I think it's more important to look at the process it took for them to get there, and how much grit and determination and effort they put in to get to that point," Guglielmi said. "Maybe the numbers aren't showing up the way they want to see it, but from the captain's perspective, and from the girls'] [swim team] perspective, I see it as they were working really hard and I'm proud of them."
Overall, the PAL Championship was both a successful and enjoyable meet for the team. Many swimmers dropped time, and they all celebrated their final competition of the year.  However, eleven boys and 5 girls did not show up to the Championship meet. 
"PALS is like a final championship meet before CCS where everyone kind of gets together for our last meet with all the other schools," junior Sofia Kim said. "It's more of a fun event where everyone can compete with each other."
The season isn't done for all of the girls' swimmers, however. Kim is one of the five girls who will compete on Friday, May 5 at Hollister High School in the CCS championships to officially close out the 2023 swim season. She will race in the 100-yard backstroke and is also a member of the 200-yard medley, 200-yard free and 400-yard free relays with swimmers Charlotte Chan, Karena Huang, Catherine Kwong and Jeannine Chiang. 
"I am just so proud that we are showing up and kind of representing BHS in whatever way we can [at the PAL tournament]. It was a nice way to kind of end this season. I think we were all able to make the most of it, " Guglielmi said.