Mints & Honey: not much more than an Instagram post
With its artistic decor and presentation worthy of social media, Mints & Honey has rapidly become a customer favorite on Burlingame Avenue and a go-to brunch destination for teenagers.
After seeing a number of Instagram posts broadcasting Mints & Honey's excellence, I decided to try it myself. While I was not disappointed, the brunch didn't live up to my — very high — expectations.
Walking in, I marveled at the cafe's cozy interior. The restaurant is intentional about its plant theme, with vines hanging from the windows and ferns painted on the walls that were  aesthetically pleasing and created a peaceful atmosphere.
The menu was fairly sized, and the dish names were interesting, as I hadn't encountered most of its items before. My friend and I ordered the rose and strawberry waffles, the rainbow waffles, the avocado toast, the butterfly coconut mango iced tea and the cherry blossom milk tea. 
We went on a Saturday afternoon, and the cafe was not as packed as usual. After sitting down, our drinks arrived in less than three minutes, with our food items following shortly after. I found the quick service to be impressive, although this was likely not the restaurant's busiest day.
When the food was delivered, I was struck by the stunning presentation. The colors of the iced tea were beautifully arranged, with defined layers of blue butterfly milk tea, white coconut and yellow mango. Complete with a mint leaf on top, the avocado toast also looked delicious.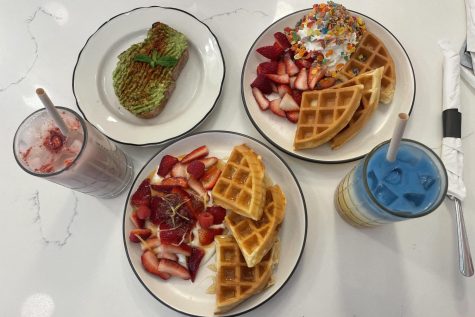 But the taste of all the items failed to live up to their 10/10 presentation. The cherry blossom milk tea was bitter and lacked flavor, and I only drank a couple of sips. With that being said, it might be an acquired taste: I've never tried a cherry blossom drink before, and people who are regular partakers may feel differently. However, the butterfly coconut mango drink was much better, and had a nice cohesive blend of flavors.
As a breakfast staple, it is hard to go wrong with avocado toast. I found that the avocado toast was pretty standard, with a good bread texture and a nice flavor. I personally felt like the waffles could have used more creativity, which was surprising because Mints & Honey is known for its waffles. The rainbow waffles and the strawberry and rose waffles were essentially the same, just with different toppings. The only unique toppings on the rainbow waffles were whipped cream and colorful cereal, which didn't really add anything substantial to the dish's flavor. The strawberry and rose waffles tasted good, but were a bit too sweet.
The restaurant was relatively affordable. I paid for the rose and strawberry waffles and the cherry blossom milk tea, which totaled $24.34. I was surprised that the drink and the waffles cost similar amounts,  though —  I would have expected the drink to be cheaper.
Overall, Mints & Honey was a good dining experience, but it didn't meet the expectations that I had walking in. It's a nice restaurant with excellent presentation, but falls short on substance. I would recommend students try it out for themselves with their friends —  if for no other reason than it makes for a beautiful Instagram post.