Urban Kitchen offers a satisfying farm-to-table experience
Urban Kitchen, the newest addition to Burlingame Avenue's dining scene, fully embraces the farm-to-table concept, serving organic ingredients, healthy options and fresh plates in a modern atmosphere. This isn't a novel idea; many restaurants purport to serve locally-sourced, from-scratch meals. But based on my experience, Urban Kitchen follows through on its promise — and it could just become your next go-to lunch or after-school spot. 
The restaurant serves a diversity of bowls, sandwiches, salads and entrees with flavors inspired by various cuisines, including Mexican, Japanese, Thai and Mediterranean.
Notably, the restaurant has an open kitchen, which allowed me to watch the chefs prepare dishes; in many ways, I felt as if I was at home receiving a freshly-cooked meal. 
My favorite dish was the Mediterranean-inspired "Healer" bowl. The combination of baby kale, raw cauliflower and carrots, roasted sweet potatoes, crunchy chickpeas and hummus was a harmonious blend of flavors and textures. The addition of toasted farro added a pleasant nuttiness to the dish. The marinated grilled chicken on top was tender and perfectly cooked, adding a critical protein element to the bowl. Overall, the "Healer" bowl was a delicious and well-balanced option that I would definitely recommend.
I also ordered the "Steakhouse Sandwich," a delectable choice for those craving a hearty and satisfying meal. The grilled steak was cooked to perfection, showcasing a smoky flavor that paired wonderfully with the freshness of the arugula. The pickled red onions provided a tangy kick, while the roasted garlic aioli added a creamy and savory element. The soft, grilled ciabatta bun held all the ingredients together, creating a satisfying bite.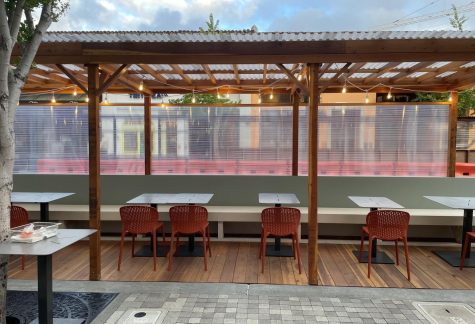 The substantial portion sizes of the two meals is worth mentioning. Although most items on the menu cost between $15 and $18, the huge amount of food delivered was a pleasant surprise — it left me certain that I had gotten good value for my money.
However, I was less impressed by the "Keep it Green" salad — a kale base topped with pickled cucumbers, grilled broccolini, roasted brussel sprouts, olives and green goddess dressing. Although the plate was presented nicely, the portion size was noticeably smaller compared to the other two dishes I had ordered and the execution fell short. The few brussels sprouts that were included in the dish were barely enough to make an impact, and there were only a handful of chopped olives scattered throughout. Additionally, the pickled cucumbers and grilled broccolini, which I was particularly excited about, were disappointingly sparse. The green goddess dressing provided a creamy and tangy flavor, but it couldn't salvage the salad.
Overall, if you're in search of a dining experience that combines a casual atmosphere, modern food and a focus on fresh, locally-sourced products, try out Urban Kitchen — at the very least, you'll leave satisfied.