The cheer squad brought an extra dose of spirit and enthusiasm to the Panthers' football match-up against Arroyo High School on Friday, Sept. 8. In addition to their traditional mid-game festivities and energizers, cheer's halftime performance fueled Burlingame's blowout of the Dons. 
Cheer demonstrated vivacity on the field and the sidelines, raising the football team's morale and providing energy to the packed student section. 
"I think they all stood out. I think they all found their inner Beyonce, and they just killed the performance," coach Kimberely Barron said. 
On the field, the Panthers triumphed 54-30 against the Dons, offering many moments throughout the game for the cheer team to recite their chants alongside the band's fight song. At one point during the third quarter, the team threw one of their flyers into the air in celebration. For sophomore cheerleader Paige Cornelius, it's the atmosphere of the varsity games that make it fun to perform. 
"There's a lot more students at the varsity games, which is always fun because you get energy from the crowd," Cornelius said. 
Although the team remained festive and energetic throughout the game, half time was a special opportunity to showcase their talents. "Yeah" by Usher and "Bodak Yellow" by Cardi B played as the team danced towards the boisterous Burlingame crowd. The music choice was carefully curated by Barron, who likes to mix the genres of music the team performs to.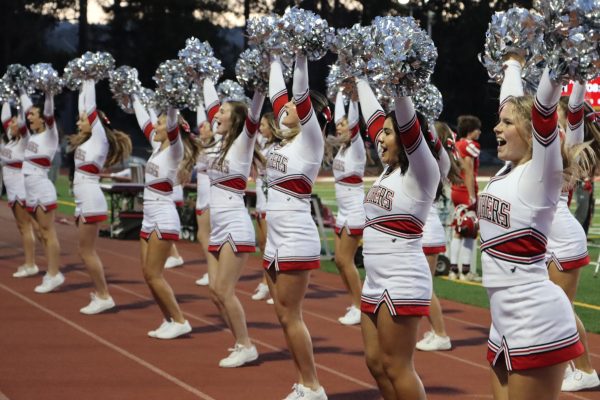 "They're really embracing the culture which is new to them because it's a different genre of music," Barron said. "They're embracing learning new skills and tasks which is awesome because not a lot of people can just open themselves to learning something so completely different." 
There was some concern that the music would be quiet, which contributed to off-counts in their prior performance during the game against Capuchino High School. Although the music was still quieter than preferred, the team did well at keeping up their counts, according to varsity captain and senior Vivica Bosshard. 
"I think we worked well all together and helped one another because our biggest fear was the music stopping and us not knowing what to do," Bosshard said. "But before, we prepared really well for that so we were all in sync [this game] which was good." 
Although no one cheerleader was the star of the show, the stunt that garnered the most ovation was junior Lucy Istock's upside down split, with sophomore Eva Mercer flipping over her as fellow sophomore Katie Trevor simultaneously toe touched from above. The performance culminated in the cheerleaders executing a group cupie, with flyers Maya Eby, Trevor, Istock, Mercer and Mischa Fellner holding their arms up to the crowd. 
With a successful night under her belt, Barron hopes to astound the crowd in future games, and she has the utmost confidence in the team's ability to achieve that goal. 
"My hope is to throw a little sprinkle here and sprinkle there of surprise," Barron said. "I feel like we're just going to shock people "I hope that everyone's looking forward to the new performance every week. They are my world. and they're doing amazing."