The School Advisory Council (SAC) hosted a public meeting after school on Wednesday, Sept. 13, with a focus on addressing the fallout caused by the Harry Potter-themed spirit week and its relation to author J.K. Rowling, who publicly holds transphobic views.
Student representatives from the Gender Sexuality Alliance (GSA) club and leadership class used the council meeting — where teachers, parents and students come together monthly to discuss campus activism — to voice their concerns. 
GSA President Violet Hansma and treasurer Lucas Keeley, both juniors, delivered a speech directed at activities director Erik Bennett, leadership advisor Bethany Li and art teacher Eislyn Wolf-Noyes, addressing the impact of their decisions. 
"Frankly, we believe that the adults in the situation need to take more accountability. You have all failed to acknowledge the damage your actions have done to the school community," Keeley said.
Specifically, students such as Keeley felt that Wolf-Noyes' approach to protesting the Harry Potter spirit week reflected negatively on the GSA and the LGBTQ+ community. 
"We understand the intention of promoting unity and not pointing fingers, but it is willfully ignorant to think that the student body will not try and find a scapegoat," Keeley said. "Your protests reflect on the trans and queer community, and it makes us appear regressive, inflammatory people who can't enjoy anything. Your choices only stoke resentment for the queer community and in an effort to uplift trans students' voices, you've done the exact opposite."
Although Wolf-Noyes defended her right as an individual to use her voice, she apologized directly to Keeley and Hansma at the SAC meeting and acknowledged the consequences of her actions for both LGBTQ+ and leadership students.
"I felt really, really horrible about the impact it had on the students at the school," Wolf-Noyes said in an interview after the meeting. "So that's something I'll have to address the impact of, help repair the damage that my actions caused."
Speaking to Li and Bennett, Keeley highlighted their lack of communication and intervention prior to the spirit week, which forced leadership students to pivot away from months of planning.
"There had to have been one person, at least one person, when that decision was made, who was familiar with JK Rowling's transphobic statements," Keeley said. "Why wasn't the GSA contacted? Leadership students put hard work, honest work, into organizing and executing rallies. Because of this oversight, so much of that has gone to waste."
Bennett and Li both expressed their remorse and their continued commitment to protecting all students on campus. 
"I don't want any student on this campus to be caught in any kind of crossfire about something that was unintentional that had unexpected consequences," Bennett said. "And I don't want them to be [hurt] in any way, shape or form."
Keeley and Hansma intentionally didn't point fingers, acknowledging that the situation started and ended with a lack of communication, rather than harmful intentions on anyone's part. Instead, they called for transparency and accountability.
"This situation has been the result of indirect communication, or total lack thereof," Keeley said. "We're not pretending to know everything or be right about everything. But honesty is the only way that any of us are going to be able to learn."
At the end of the discussion, Fong asked students and other members of the council to consider potential ways to convey the same message to the student body.
The response they agreed on was done in two parts: the first, a video broadcast on BTV to all students before the Welcome Back rally on Friday, Sept. 15, granting Hansma the platform to express her position on the events that transpired. She thanked leadership for their efforts to respond, and encouraged the Burlingame community to act with more communication and consideration moving forward.
"The response, what happens next — that's our job," Hansma said in the broadcast. "It is so, so easy to place blame, to create divisions, but that solves nothing. Our responsibility is to rebuild our community and learn from our mistakes."
The second occurred at the start of the rally. Students, teachers and administrators lined up on the field, arms linked in a display of unity. Hansma stepped up to the microphone, briefly reflecting on the matter once more.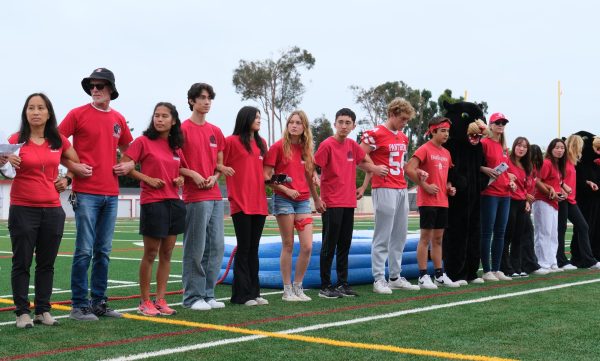 Both addresses represent a desire of administrators and teachers to let students lead the discussion going forward. In fact, many expressed regret that students hadn't played a more active role from the beginning.
"If I'd gone to the students with my concerns, if leadership adults had gone to the students with my concerns I'd shared with them, we would probably be telling a very different story right now," Wolf-Noyes said. "So it's like, 'Why don't we put more faith in our students to create a community that's better?'"
Bennett recognized that when leadership advisers and admin first learned of concerns with the spirit week, they decided to move forward with the events without student input.
"We thought that we could separate the art from the artist and move forward, and we learned very quickly that that was not acceptable," Bennett said. "And so we attempted to pivot and remove Harry Potter from all spirit stuff."
When leadership students were informed on Tuesday, they made the immediate choice to reverse course and disassociate all remaining events from Harry Potter. 
"For leadership, all we can do is just to continue working hard and continuing the work that we've done," ASB President Cora Haggarty said. "However, I know that there's always room for improvement and that there will always be ongoing dialogue about what we can do, and I want to make it very clear that we are here for the community and that we want to make sure that everyone feels welcomed at all times."
Among adults, the consensus was that students — both leadership and GSA representatives — had handled the situation with maturity and grace.
"I feel like kids in leadership, students that I've talked to from the GSA, have been nothing but admirable, respectful, responsible, proactive, resilient," Bennett said. "They've been amazing. And I'm inspired by them, to be quite honest."