What is affirmative action?
The principle of affirmative action was introduced in 1965 through President Lyndon B. Johnson's Executive Order 11246, which required government contractors to expand job opportunities for underrepresented individuals. Throughout the 1970s, U.S. colleges began to increase minority enrollment, and in 1978, the Supreme Court ruled that affirmative action, when used as one consideration in a holistic review of an application, was constitutional in Regents of California v. Bakke.
How did the case develop?
In 2014, the founder of Students for Fair Admissions (SFFA), Edward Blum, sued Harvard University and the University of North Carolina at Chapel Hill over concerns that the colleges were biased against Asian and white applicants in their application reviews. In its arguments, SFFA stated that affirmative action's preference for one race over the other violated the Equal Protection Clause of the 14th Amendment to the Constitution and was also prohibited by the Civil Rights Act of 1964.
What was the decision?
On June 29, the Supreme Court ended affirmative action at all U.S. colleges and universities, ruling that colleges cannot consider race in admissions. In the 6-3 decision, conservative Chief Justice John Roberts asserted that affirmative action did indeed violate the Equal Protection Clause, preventing colleges from using checkboxes to figure out the race of their applicants. Still, the case allows colleges to consider diversity through supplemental essays.
How was California already different?
In 1996, California residents voted to pass Proposition 209, which eliminated the use of race-based admission, or affirmative action, in the University of California (UC) and California State University (CSU) systems. The bill's effect was immediate, as many California public campuses started seeing decreased minority enrollment.
In 2020, Californians rejected Proposition 16, which would have repealed the earlier Prop 209 and given back colleges the right to consider race in admissions. 
Although UCs cannot consider race in admissions, over the years, they have utilized certain programs such as Eligibility in the Local Context (ELC), which provides guaranteed admission to a UC school for the top 9% of each California public school's graduating class, to boost enrollment among underrepresented minorities. The ELC program allows the system to recruit top students from all across California, regardless of gender, ethnicity or race.
What will colleges change?
The monumental decision forced many colleges to alter their admissions process before opening applications for the following fall. Soon after the decision, several college presidents and admissions deans emailed their students and potential applicants, alerting them that affirmative action was no longer in place. Nevertheless, several colleges emphasized that they would give increased importance to supplemental essays, allowing students to talk about their identities.
Burlingame's college and career advisor, Jonathan Dhyne, advises students to think deeply about their supplemental essays this year, stating that the essays can be a game changer in the admissions process. 
"Whether or not the checkbox is there for your race or ethnicity, there are other ways to talk about your experiences and champion who you are," Dhyne said.
What do Burlingame students think about the decision?
Although views on affirmative action often fall along partisan lines — with progressives in favor of the practice and conservatives against it — the issue is far from binary. 
For one, senior Raymond Frank, a half-Black, half-Filipino student, believes that affirmative action unfairly benefits minority students like him, providing them with an underserved edge in admissions at the expense of white and Asian students.
"
I think people should get into [Ivy League schools] or other good schools not based on their race or whatever they can't control, but on how much effort and time they put into education.
— Raymond Frank
"There are a lot of people out there who study for the SAT or put a lot of work in to get into top schools, but then due to their race being white or Asian or anything like that, they don't," Frank said.
Additionally, he believes underrepresented minorities already have the resources to succeed, such as access to the internet or libraries, and do not need the extra support. Agreeing with the Supreme Court's decision, Frank prefers that colleges focus on merit rather than race.
"I know a lot of Black, Hispanic students, other minority students who really work hard and genuinely deserve to get into these schools," Frank said. "I think people should get into [Ivy League schools] or other good schools not based on their race or whatever they can't control, but on how much effort and time they put into education."
On the other hand, senior Ella Perez, a white and Hispanic student, believes that striking down affirmative action is contradictory to the main intention of the 14th Amendment since it denies opportunities for underrepresented students. 
"The whole point of affirmative action is equity over equality," Perez said.
Although Perez wants merit to play a crucial role in admissions, she mentions that colleges cannot admit everyone since a large number of applicants have similarly high grade point averages, necessitating a holistic review process that takes personality and background into account.
"Sometimes people [say], 'Well, I saw this person, and they're a minority, and they got accepted and they didn't have this or that'…but that person could have written a much better essay than you did and that could have gotten them into the college," Perez said.
How will the decision affect Burlingame?
Now that affirmative action has been struck down, Frank believes the decision may benefit white and Asian applicants at Burlingame.
 "I think [the decision to end] affirmative action could benefit [Burlingame] in particular in the sense that finally [students'] hard work will be recognized, and they'll be rewarded for those efforts," Frank said.
Conversely, Perez believes the decision will not change much for Burlingame, asserting that it will most heavily benefit rural and first-generation students with limited access to opportunities.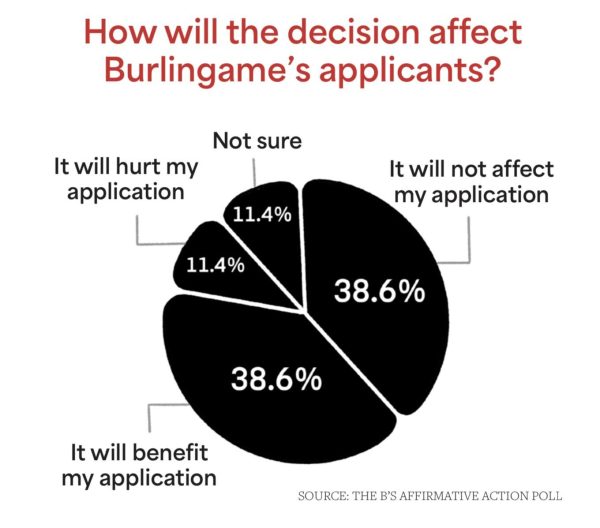 "There aren't a lot of people [at Burlingame] who want the ethnicity piece or minority piece to give them an upper edge," Perez said.
Matthew McDermott, an ethnic studies and Advanced Placement (AP) U.S. Government and AP Macroeconomics teacher at Burlingame, believes that the decision might benefit Asian applicants more than white applicants.
"I wonder if it might benefit our Asian population because, as you saw in the evidence in the Harvard case, it was a lot of Asian students struggling to get full admission," McDermott said.
Although he believes the decision could have unprecedented effects nationwide, McDermott emphasized that it will not be a huge game changer for applicants who are already represented in higher education.
"Some of our minority students are going to feel the brunt more than, you know, maybe white and Asian students feeling the benefit," McDermott said.