The cheer squad brought unmatched energy and spirit to the field at football's home game against Wilcox High School on Friday, Oct. 15. Despite the 41-7 loss against the Chargers, the cheerleaders kept the crowd hyped throughout the game. 
Cheer's halftime performance aligned with the pink theme in honor of Breast Cancer Awareness Month, opening with a "Barbie" stunt set to the hit song "Barbie World" by Ice Spice and Nicki Minaj. Sophomore Alexia Thompson felt excited to perform Friday's routine with the pink bows and pompoms.
"I think we really brought out a lot of energy as we embraced our inner Barbies," Thompson said. 
Following "Barbie," the cheerleaders demonstrated numerous stunts, including an arabesque. The Panthers also performed a toe-touch and pretty-girl baskets, as well as a jump-rope pyramid, all to the excitement of the crowd. With rigorous two-hour practices three to four times a week, head coach Kimberly Barron witnesses constant improvement. 
"[The cheerleaders] are really eager to learn new things and everyday we're getting a little bit more discipline which is great to have on the team," Barron said. 
The performance concluded with the flyers Maya Eby, Katherine Trevor, Lucy Istock, Mischa Fellner and Eva Mercer executing a group cupie, holding their arms up. 
Senior and captain Vivica Bosshard also believes that the team has improved tremendously throughout the season and is ready for the annual Little Big Game (LBG). 
"So far, we've had two weeks of Little Big Game practices, because of the two away games, we didn't do a half-time performance, so we just focused on the Little Big Game," Bosshard said.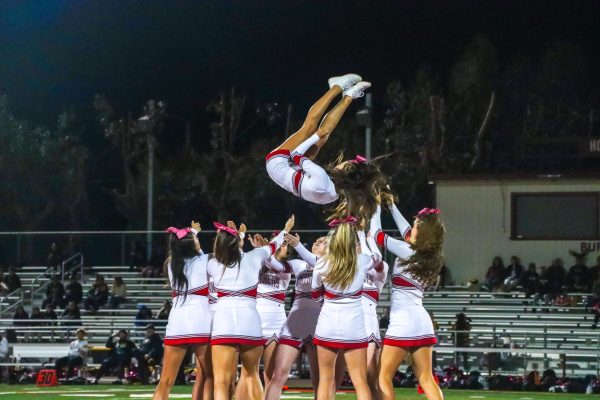 As a captain, Bosshard is responsible for keeping the team together, critiquing technique, choreographing and leading the team with strong spirit. 
"Each performance has been strong and unique in its own ways, but I think we can all work on improving a little bit more," Bosshard said. 
Barron feels confident in the cheerleaders' performance skills as she trains them to showcase their best work at the LBG. 
"We are definitely prepared [for the LBG]. We are definitely ready, and I don't think anyone else is ready to see what we have in store," Barron said. 
Cheer's progress is especially notable this season given the team made last-minute adjustments due to increased participation and the addition of sophomores on the varsity roster.
"I feel like every game we've always exceeded our expectations, and I see nothing but great things going for our squad," Barron said.