Senior musicians praise annual Play-a-thon
Hang on for a minute...we're trying to find some more stories you might like.
The BHS Band and Choir performed and sang festive music on Burlingame Avenue at their 27th Annual Play-a-Thon on October 15. During this fundraising event, musicians also gave people the opportunity to conduct the band and sold homemade baked sweets and raffle tickets for a chance to win prizes donated by surrounding Burlingame small businesses.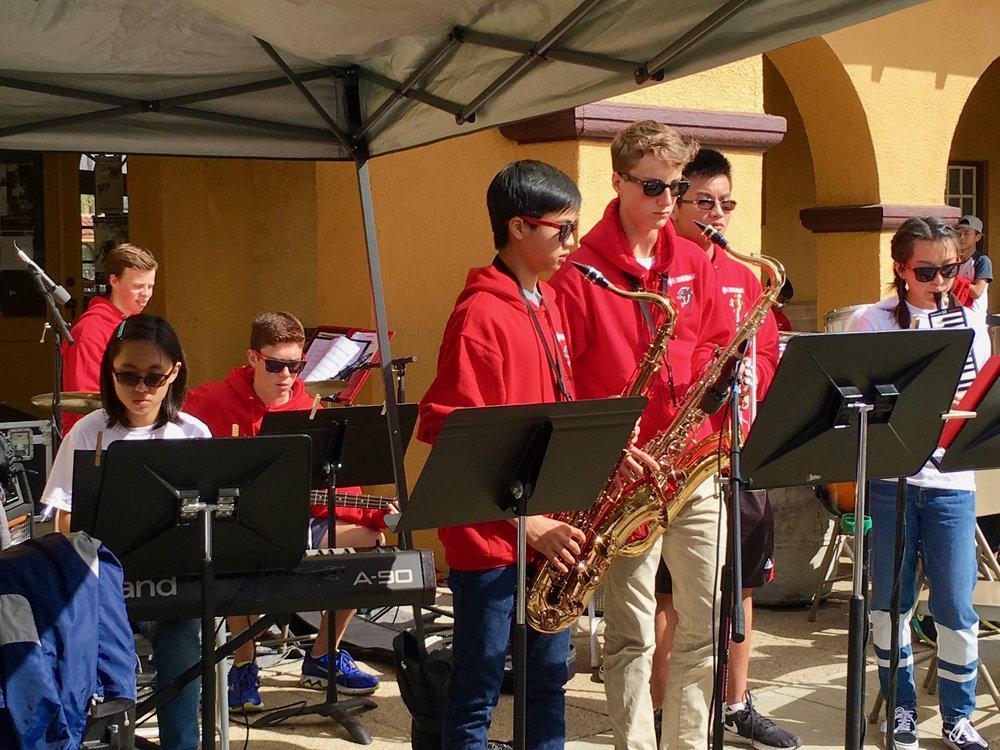 Freshman Justin Hee and James Gordon, and Seniors Kevin Hee and Dara Phung performing at the 27th annual Play-a-thon
To the musicians, however, this is more than just a fundraiser. The Play-a-thon is a time of camaraderie among BHS students who have a love for music. This event is a favorite among many as a result of the dedication of the music teachers, weeks of practice, and the choice of music.
"The event is successful because of the spirit of the band and choir, and the hours of effort put in by the Music Boosters and the teachers Mr. Kimura and Mr. Reifschneider," senior and band member Ben Haber said. "I enjoy hearing all the music."
The marching band and jazz band hit the beats with popular songs like "Happy", "Ain't No Mountain High Enough", "Party in the U.S.A", "Counting Stars", "Word Up", "Sweet Caroline", and "December, 1963" while the choir got their crowd swaying with "Old Time Rock and Roll", "Everybody Wants to Rule the World", and "We are the World". Seniors Tesia Cheung, Isabella Hernandez, Dara Phung, and Elyssa Alfi and junior Mira Guleri struck a chord with their audience with their solos.
The BHS Band and Choir continuously entertained and attracted crowds from 9:30 am to 4 pm in front of the Burlingame CalTrain Station and marched down Burlingame Avenue at 11am and 3pm. The community support is an encouraging aspect that the band and choir members greatly appreciate.
"To hear the claps while we perform or see the videos taken of us when we march on Burlingame Avenue is something that I look forward to every year," senior and band member Valerie Hon said.
Music opens up hearts and spreads joy. For the graduating seniors, the Play-a-thon was a sentimental time since this was their last with their fellow musicians.
"I am very sad that it has come to an end. I had a lot of fun fundraising and singing to the crowd," senior and singer Shawna Ho said.
"Through personal interactions with the underclassmen, I have seen a lot of enthusiasm and dedication in them and I honestly can not wait to see what they will contribute to the program in the future," Hon added.
Those who participated enjoyed a memorable and joyous day. The graduating seniors will surely miss this event.