Sharp to serve at Stanford
Even though Emmy Sharp is a junior, she has known for over a year where she is almost certainly headed after graduation. Sharp plays competitive volleyball and is verbally committed to Stanford University's beach volleyball team, receiving her formal admissions decision this July.
Besides playing on the Burlingame team freshman and sophomore year, Sharp trains at Rage Westside Volleyball Club for indoor as well as at Santa Cruz Beach Volleyball Club. Both clubs hold practices twice a week, and on the weekends Sharp frequently has two- or three-day tournaments. Last summer, she played at least six hours every day.
"Indoor is more for fun because I could not say goodbye to it, and beach is because I'm playing in college, and also I love it," Sharp said. "But it's very time-consuming doing both of them."
Sharp began to play indoor club volleyball in fourth grade and quickly fell in love with the sport. The coaches soon started talking about future recruitment, and Sharp received her first email from a college coach in freshman year. It was Harvard.
"I still remember I was just terrified," Sharp said. "I always knew that I loved volleyball so much. It's who I am, and so I never even questioned whether or not I wanted to [play] in college. It was just a matter of where I could go."  
Even though she communicated with other schools, Sharp always wanted to attend Stanford. She has taken a rigorous amount of advanced placement classes to meet the university's standards, although going to weekend tournaments means she frequently misses school. Makeup work can get intense, but there is always light at the end of the tunnel—Stanford.
"I always think about what I'm working towards," Sharp said. "I just get through this year and I can know that I get to go to Stanford. I really enjoy playing volleyball, so it's all worth it."
About the Writer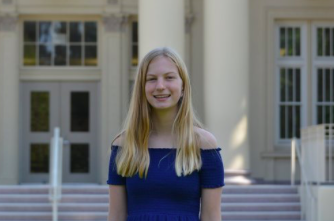 Tekla Carlen, Editor-In-Chief
Tekla Carlen is a senior at Burlingame High School in her third year of Journalism. She is excited to serve as editor-in-chief this year after copy editing...