Pandemic gives Burlingame students more time to get back into reading and find their favorite books
Since the beginning of the pandemic, quarantine has given people more free time than before, and people have turned to activities more suited to a home environment. Reading can act as an escape to reality and the concerning issues we are facing in these pressing times, causing many people to start doing more often to fill up their time.
Based on a poll that 64 students filled out, 25% of those students read more books with the free time they've gained during the past 10 months. 
Fantasy, realistic fiction and mystery novels were the most popular genres among those of the student body who filled out the Google Form. The average amount of books that students read during this 10-month period was 10. Burlingame students explored new books — from which they challenged themselves or even found their new favorite book.
Some students have struggled to find a book they would enjoy, so five students from grades 10, 11 and 12 recommended some of their favorite books that they have read during quarantine:
"Looking for Alaska" by John Green
Recommended by Gemma Rice
For fans of realistic fiction
Synopsis: Miles "Pudge" Halter grew up with a normal, safe childhood — until he starts attending a boarding school where he meets irresistible Alaska Young. He is pulled into her new, exciting world and everything changes.
Rice enjoyed this book because it was relatable to teenagers. "This is the kind of book that I like. Those, like, realistic [books] and just about high schoolers, and I liked it because the storyline was just really good and it wasn't too deep but had a good meaning… [it's] really captivating and an easy read," Rice said.
"A Court of Thorns and Roses" by Sarah J. Maas
Recommended by Emily Geraghty
For fans of Young Adult fantasy
Synopsis: Feyre, out hunting a wolf, is kidnapped by someone who takes her to the kingdom of faerie and soon realizes there's more to her captor than what seems to be. While her feelings toward him turn from hatred to desire, she has to break an ancient curse in order to save him.
Geraghty recommends this book as she thoroughly enjoyed the characters and overall plot. "I just like the character dynamics… especially the main character Feyre. She kind of tackles a lot of, like, personal issues — like familial issues — and then, of course, she is the main character, so she has to save everybody else in this country called Prythian. So, like, she has to save them all from this lady who was trying to take over the world," Geraghty said.
"Eleanor & Park" by Rainbow Rowell
Recommended by Abby Sanchez
For fans of Young Adult fiction/romance
Synopsis: Eleanor, the new girl in town who sticks out like a sore thumb, and Park, the quiet boy who reads and listens to music in the back of the bus, slowly fall into an innocent love you can only experience when you're young.
Sanchez enjoys the emotions you feel when reading this book: "I would definitely recommend this book because it's pretty relatable and the events are really suspenseful and emotional… Park was a racial minority and he told us how it was difficult to fit in because his school was mostly white. I felt like I really related to him because, like, I know how hard it is when you feel like you don't belong in a certain environment. The other main character is a girl who is really herself but feels like she's judged by her peers at school, and I really love that she doesn't feel bad for being herself," Sanchez said.
"The Secret History" by Donna Tartt
Recommended by Mary Canniffe
For fans of mystery/psychological thrillers
Synopsis: After a young man transfers to a college in Virginia, he attends a Greek classics class and befriends an eccentric group of peers — only to become intertwined in a story of questionable morality and evil.
Canniffe admires the lyricism Tartt brings: "The way that it's written is really — it's beautiful… And also, because I usually read young adult fantasy, [something] more marketed towards adults that's not fantasy — it's definitely changed from what I'm used to reading and it was a really nice change because, just the way she writes, feels sophisticated," Canniffe said.
"The Devil in the Dark Water" by Stuart Turton
Recommended by Becca Morales
For fans of mystery/thriller
Synopsis: In 17th century Europe, bodyguard Arent Hayes and detective Samuel Pipps are on a boat to Amsterdam on death row for a crime no one's sure Samuel actually committed… until devilish and life-threatening acts start occurring and Arent is left to solve the mystery as to why they're happening.
The plot, according to Morales, keeps you on your toes and has really interesting character development: "There's a lot of twists and turns, and it really grabs your attention. Since it was 1634, women, obviously, were really put down and they had no say in anything… Sara's husband abused her until she met Arent and learned to be strong. Arent also gains a lot of confidence with Sara too," Morales said.
Other book favorites:
Mystery/Psychological Thriller:
"The Secret History" by Donna Tartt

"The Goldfinch" by Donna Tartt

"Panic" by Lauren Oliver

"Heart of Darkness" by Joseph Conrad

"One of Us Is Lying" by Karen M. McManus
Sci-Fi:
"The Eleventh Plague" by Jeff Hirsch

"The Giver" by Lois Lowry

"Hyperion" by Dan Simmons

"Kindred" by Octavia Butler
Fantasy: 
"Metaltown" by Kristen Simmons

"The Gray House" by Mariam Petrosyan

"The Poppy War" by R.F. Kuang

The "Harry Potter" Series by J.K. Rowling

"Children of Blood and Bone" by Tomi Adeyemi

"Six of Crows" by Leigh Bardugo

"Throne of Glass" Series by Sarah J. Maas

"Crescent City" by Sarah J. Maas

"Shadow and Bone" by Leigh Bardugo

"Wheel of Time" Series by Robert Jordan and Brandon Sanderson
Historical Fiction:
"The Song of Achilles" by Madeline Miller

"The Guernsey Literary and Potato Peel Pie Society" by Annie Barrows and Mary Ann Shaffer

"The Odyssey" by Homer
Autobiography/Biography/Memoir:
"Shoe Dog: A Memoir by the Creator of Nike" by Phil Knight

"Tough Love: My Story of the Things Worth Fighting For" by Susan Rice

"Vulgar Favors" by Maureen Orth

"Big Blue Sky: A Memoir" by Peter Garrett

"A Promised Land" by Barack Obama

"Is Everyone Hanging Out Without Me? (And Other Concerns)" by Mindy Kaling
Realistic Fiction:
"The Last Picture Show" by Larry McMurtry

"Little Fires Everywhere" by Celeste Ng
Romance:
"Red, White & Royal Blue" by Casey McQuiston

"The Key to Happily Ever After" by Tif Marcelo

"Call Me By Your Name" by André Aciman
Classics:
"A Tale of Two Cities" by Charles Dickens

"The Picture of Dorian Gray" by Oscar Wilde
Nonfiction:
"Thinking, Fast and Slow" by Daniel Kahneman

"The Art of Deception" by Kevin Mitnick and William L. Simon

"Life After Death: The Burden of Proof" by Deepark Chopra

"Sapiens: A Brief History of Humankind" by Yuval Noah Harari

"The Great Pretender: The Undercover Mission that Changed our Understanding of Madness" by Susannah Cahalan
Young Adult Fiction:
"They Both Die at the End" by Adam Silvera

"The Hate U Give" by Angie Thomas

"On the Come Up" by Angie Thomas

"Alex, Approximately" by Jenn Bennett

"The Storied Life of A.J. Fikry" by Gabrille Zevin

"Aristotle and Dante Discover the Secrets of the Universe" by Benjamin Alire Sáenz

"All the Bright Places" by Jennifer Niven
About the Contributor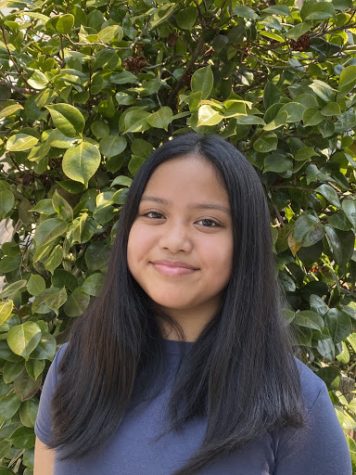 Jaden Luke, Staff Reporter
Jaden Luke is a sophomore and a first year journalism student. During her free time, she likes watching TV shows and movies or listening to music from...