Short-handed Panthers struggle against Half Moon Bay, remain hopeful for the future
With three of their six starters out with injuries, boys' varsity water polo faced off against Half Moon Bay High School at home on Wednesday, Sept. 21 in a tough-nosed but less-than-rewarding game. 
The final score was a 5-12 loss for the Panthers, who were overwhelmed by the Cougars' offensive prowess.
After their substandard 2-8 record in the Bay Division last year, the Panthers were relegated to the Ocean Division. However, moving to the Ocean Division did not stop the team from taking their game to the next level and starting the fall season strong.
With an impressive record of 3-1, Burlingame was ready to take on the Cougars at the Burlingame Aquatic Center. Nonetheless, the loss of seniors Archer Grenier, Dmitriy Luck and Tony Quilici left the Panthers disadvantaged from the outset.
Oliver Canniffe is one of the few freshmen on the team and played for most of the game. Although he tried his best to help the Panthers score several goals, he was overwhelmed by the strong Cougar defense.
"Overall, we had a couple of guys with good games. But we also had a couple of guys out," Canniffe said. "So it made it even harder than it should have been."
With many reserves in the pool, the Panthers were unable to take advantage of simple breaks. On the other hand, the Cougars caught the Panthers off guard at the right moments and capitalized on opportunities near Burlingame's goal.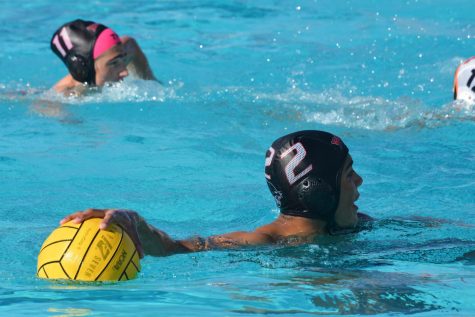 Nonetheless, senior starter Jonathan Kon wants to maintain a positive attitude as the team moves on to its next games in the season.
"Although we lost, I think we sort of found our weaknesses, and we know what to practice, how to improve," Kon said.
New head coach Joey MacNichols also remains optimistic about the season and wants to improve the team chemistry.
"I'm really excited to unify the seniors and end on a really positive note," MacNichols said. "It's what I'm working towards."
Despite the defeat, MacNichols and his team are determined to take advantage of the rest of league play while also maintaining a positive team atmosphere.
"I don't know if our shot of getting to CCS is there anymore. But we could definitely finish pretty high in the league," Canniffe said. "I'm looking forward to it."