Burlingame's CCS dreams over in the first round
On Friday, Nov. 11, varsity football (5-6 overall) lost to fifth-seed Hollister High School in the Division III CCS quarterfinals. The Panthers, who entered the game as the fourth seed, were unable to gain momentum throughout and ended their CCS run with a 37-7 loss.
"It's a tough way to end things," head coach John Philipopoulos said. "I'm obviously disappointed. I wish we would have played better. I wish we would have given ourselves a better chance to come out on top. But it didn't work out that way."
For some Panthers, it probably felt like deja vu: last year, Burlingame played against Hollister in the Division II CCS quarterfinals and suffered the same fate, losing 31-28. 
The Panthers quickly fell behind in the first quarter, with Hollister scoring a touchdown in the opening minutes to take a 7-0 lead. 
The game continued in the Haybalers' favor as they quickly scored another touchdown. Down 14 points in a matter of minutes, it seemed that Burlingame could not stop Hollister's continuous runs.
"I think a lot of it was their size up front, and that's a tough football team," Philipopoulos said. "They were bigger and thicker than we were."
A blocked punt in the second quarter would ultimately be the most gut-wrenching play for Burlingame. Hollister tipped kicker Eddie Gill's ball, recovering it in the end zone and widening the lead to 21-0 with a touchdown.
The third quarter started with another Hollister drive and a successful touchdown, although they missed the extra point in the process.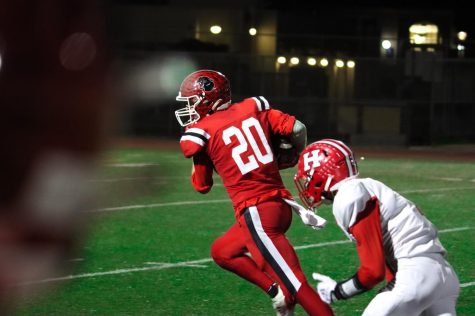 But a 27-point deficit didn't stop Burlingame from producing a stroke of brilliance on the next drive. Senior quarterback Liam Friedman connected with junior tight end Zachary Shapiro, who ran for an 85-yard touchdown to get the Panthers on the scoreboard at 27-7. 
By the fourth quarter, it seemed as if the game was all but over. Hollister reinforced their lead with a touchdown early in the quarter. A turnover on downs from Burlingame shortly after, primed another Haybaler drive and a field goal, setting the final score to 37-7. 
Although the Panthers' season ended in a tough loss, it certainly had its highlights — especially for a young team composed mostly of juniors.  Just the weekend prior, the team pulled out an emphatic 49-21 victory over San Mateo in the traditional Little Big Game, tying the record for the most points scored in the annual contest.
"I can say I'm satisfied with the season, but I wouldn't say I'm satisfied with today's game," Friedman said. "I definitely think we could have gone a little harder, played a little better, the line could have blocked better, the running backs could have ran better, I could have thrown better, receivers could have caught better — you know, just everything."