Girls' basketball shows resilience in their narrow loss to Capuchino
Girls' varsity basketball (4-15 overall, 1-6 PAL South) competed on every single possession against Capuchino High School (3-14 overall, 3-4 PAL South) on Friday, Jan. 27. The Panthers exuded grit and great effort, especially on the defensive end, but couldn't finish the job as the Mustangs hung on to win 38-32. 
After pouring in 54 points in their win against San Mateo High School a week prior, the most all year, Burlingame reverted to a season-long trend in their next three games: struggling to score consistently, averaging 31 points since.
"Making sure those shots fall can go a long way for us and also just being able to play together a little more rather than individually would go a long way for us as well," senior Nora Leslie said. 
Against Capuchino, the Panthers had no shortage of looks off of numerous offensive rebounds, but they were unable to capitalize on the extra putback opportunities. Those missed chances proved to be crucial in the second quarter when poor Panther passes were intercepted on fast breaks. The turnovers created extra chances on the opposite end for Capuchino, many of which the Mustangs converted. 
"[We need] more communication when we're passing so we eliminate more mistakes and turnovers," freshman Haleh Ansari said.
In that second quarter, the Mustangs began to build a lead, taking their defensive momentum and turning it into a nine-point advantage by halftime. Burlingame would open the second half by cutting the lead to five, but Capuchino responded with an 8-0 run of their own to give them a seemingly comfortable 33-20 lead with one quarter remaining. 
The Panthers rallied with back-to-back threes from Leslie and consecutive layups from sophomore Hailey Miller, cutting the Mustang's lead to three with under a minute remaining. With the ball and a chance to tie the game, a costly Burlingame turnover led to a pair of Capuchino free throws, both of which found the bottom of the net to secure the win for the Mustangs.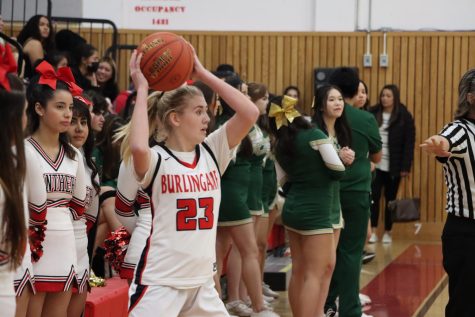 "There were some mistakes, but that's to be expected with the pressure of everything in those last few minutes," Leslie said.
The resilient fourth quarter push was a bright spot for the Panthers, proving that despite relative inexperience and scoring struggles, the squad is capable of coming back and applying pressure down the stretch.  
"Being able to like go through [struggles] with them and work through it and get better with my teammates is the best," Leslie said.
Miller led Burlingame with eight points, six of which came in the fourth quarter. Ansari also poured in seven and Leslie added six. Senior Malia Schmidt had four points and grabbed eight rebounds. 
After a busy week, with three games in four nights, the Panthers will take a few days off for practice before heading to Hillsdale High School to face the Knights on Wednesday, Feb. 1.  
"I'm hoping we can get a couple more wins in the book," Leslie said. "And I just want to enjoy the last few weeks that I get to play with this team."