Boys' tennis fights for a foothold in stacked Bay Division
Tennis is an unforgiving sport: you can play toe-to-toe with an opponent, competing for every point — and still fall remarkably short on the scoreline.  
And, as boys' tennis sits at No. 6 in the PAL Bay Division after losing four of its first five matches, that disappointing reality has become a frequent one.
"He was a better player, but all the points were really close," said junior and No. 2 singles player Chinmay Rao after a 6-0, 6-1 loss against Aragon's Naveen Scwarzkopf. "He always had that one last [ball] that went over, and all the games were close. But at the end, you don't see what the games were, you just see the set score."  
The Panthers' early season schedule hasn't been easy — four of Burlingame's five matchups have been against the top teams in the PAL Bay — with 6-1 losses to No. 1 San Mateo High School, No. 2 Aragon High School and No. 3 Carlmont High School. And in their league opener, No. 4 Menlo-Atherton High School dealt them a clean sweep. 
However, according to head coach Bill Smith, those matches came down to slim margins — a variety of factors could have swayed them Burlingame's way.
For example, in a March 8 matchup against Aragon High School, seniors Arihant Mishra-Agoram and Ryan Gyde won 7-6 (8-6), 6-3 at No. 1 doubles. At No. 2 doubles, freshman Kieran Kilgo and Luke Amdursky lost narrowly 11-9 in a third-set tie break. Alongside those two winnable matches, junior Dylan-Ares Hanson and sophomore Nicolas Moshkovoy were out of the roster — potential top-six players, according to Smith — missing out on a chance to  notch an extra win. And if Burlingame found another win in singles or doubles, they could have prevailed.
"Jared Berkovits [at No. 3 singles] and Jackson Spenner [at No. 4 singles] weren't blown off the court," Smith said after the match. "All you have to do is win one of those matches that every player felt, 'I might be able to beat this guy.''' 
The absences of Ares-Hanson and Moshkovoy especially hurt the Panthers. Ares-Hanson is currently performing in the spring musical "Disaster," and Moshkovoy is dealing with a lingering elbow injury. 
"We've seen [Moshkovoy] do good things like play a tiebreaker, and do well against [No. 1 singles player Arda Inegol] on an off day," Smith said. "Everybody is excited to get back [Moshkovoy and Ares-Hanson]…they're in the middle of the line-up, so that makes us infinitely better. If we made them nine and ten and they played third doubles, my goodness, well, then we might sweep the doubles."
Despite that uncertainty, Burlingame undoubtedly has a bright spot in the duo of Mishra-Agoram and Gyde at No. 1 doubles, who have won four of their five matches. 
The pairing comes as a surprise, though: Mishra-Agoram played at No. 1 singles since his freshman year, before asking to play doubles ahead of Burlingame's first matchup this season. He partnered with Gyde, an experienced doubles player with plenty of power.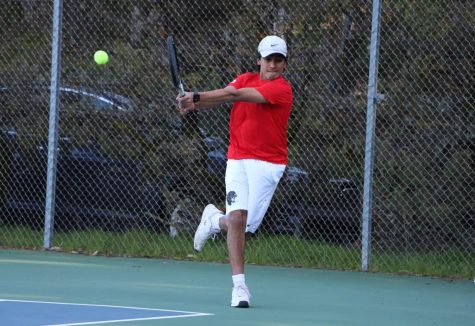 "It was a tough decision for sure. I definitely loved playing No. 1 [singles] for three years, but I think I realized [it] was for the betterment of the team," Mishra-Agoram said. "We have perfectly good singles players that are capable of winning any game. And you know, playing doubles allows me to have more fun on the court, and also gives me a chance to win as many games as possible."
Not only does the pair excel at No. 1 doubles, but they play a fun brand of tennis, too — from joking with each other during change-overs to producing beautiful winners on the court. 
As Smith put it, "they could have as much fun having lunch in the middle of a tournament on Friday, Saturday, as playing the actual match."
That easy chemistry extends itself to other players on the roster, which the freshmen and senior pairing of Kilgo and Amdursky at No. 2 doubles are a testament to. They have consistently had close matches this season.
"[Amdursky] has really been my coach through this. Every game, every point I've lost, he's kept me going through it," Kilgo said. "He's been my number one supporter, I've been his and I think we make a really great pairing." 
The next step for the Panthers is translating that synergy to group success during match play. Assistant coach Doug Stone has focused on helping the squad trust its shots and dictate play in long rallies. 
"It's always different out here in a match, than while we're practicing," Stone said. "The more matches we get in, the more we continue to work on the fundamentals, consistency and going for the right shot at the right time…we'll win our share of matches."
In the next week, Burlingame will play lower-ranked Half Moon Bay High School and rematch Aragon and Carlmont. The goal remains adding its name into the conversation of the upper teams in the PAL Bay Division. 
"Last year, you could look and say, 'Well, we're better than a couple teams below us, but we can't make that bolt up to the next level.' This year, even though we lost to M-A 7-0, we were competitive in every match,'' Smith said. "[Against] Carlmont, same thing. Lost 6-1, competitive every match. [Against Aragon], that hurt because we weren't as competitive on the scoreboard in singles, but it could change."