Boys' tennis nearly upsets league No. 2 Aragon
While the gap in the PAL Bay Division between fifth-place Burlingame (6-8 overall) and second Aragon High School (10-2 overall) seems wide, their two meetings this season have proved otherwise. 
In their first meeting on March 8, absences and a lack of execution factored into a 6-1 loss for the Panthers — albeit one that was closer than the score suggested. And, in their second meeting on April 12, Burlingame came even closer to an upset, falling 5-2 after two pivotal third-set tiebreak losses. 
The Panthers began their search for an upset at No. 1 doubles, where the extremely successful duo of seniors Arihant Mishra-Agoram and Ryan Gyde won 6-4, 0-6 and 10-4 in a third-set tiebreak. Junior Arda Inegol at No. 1 singles added to the win column, at 7-6 (8), 3-1, after a retirement from Aragon's Naveen Scwarzkopf due to injury. 
Following the theme of crucial tiebreaks, the No. 2 and No. 3 doubles matches also went to match-deciding 10-point tiebreakers. 
"[Aragon has] had a very good year…obviously, we had a chance to win 4-3," head coach Bill Smith said. "Doubles as a whole all kind of did the same thing."
But in the end, junior Dylan Ares-Hanson — who returned with the team in mid-March from the musical "Disaster" — and senior Luke Amdursky lost 7-5, 0-6 and 10-4 with multiple unforced errors in the third-set tiebreak. One court below them, the No. 3 doubles pair — freshman Noa Chiang and junior Griffin Reese — put up a valiant effort, but they, too, ultimately lost in a 6-4, 6-7 (7), 10-8 loss. 
"[Burlingame] always has a strong program. It always scares me to play them because they're always very competitive," Aragon head coach Dave Owdom said. "It's got great doubles, and when you have a super tiebreaker, that's as close as you can get."  
Across all the matches, the pace of play was faster and more precise than earlier in the season. Smith was particularly pleased with the play of doubles, which demands a less conservative style than singles and lets players take advantage of angles and depth. 
"Up and down the doubles, the guys are more confident in hitting big shots," Smith said. "They made mistakes, but didn't fall back just trying to push the ball around." 
Despite a rocky league performance, the silver linings aren't hard to find for Burlingame: each player showed individual improvement, the Panthers finished with a slightly better record than last year and they were competitive with the PAL Bay's top teams. Although the team hoped to qualify for the PAL team tournament in light of a down-year from Menlo-Atherton High School, which has won 12 of the last 14 division titles, they fell just short of finishing in the top four.
"There's two sides that every coach or team will say about that. It's agonizing when you look and see, "Oh, we could have won,"' Smith said. "My goal is to get them to where they could be…I have to be able to get them to that door [of the top four teams]. And they were there, this match [against Aragon] is a good example of that." 
The tennis festivities continued after the match, however,  as the Panthers held their senior night. And despite any shortcomings on the court, one thing seemed clear: The group knows how to encourage each other and have fun.
The season started with most of the top 10 players excitedly practicing together at Millbrae Racket Club ahead of tryouts, and it ended with a surprise Gatorade shower on assistant coach Doug Stone — through and through, the Panthers built their success on relationships and memories. 
"I've been with [No. 3 singles player Jared Berkovits] for four years now…We've had great moments, and I'll cherish them forever," Mishra-Agoram said, as he watched his final team matchup at home. "So although maybe the scores don't say it all, his passion, energy and just his ability to make everyone smile is something unparalleled."
With the team's final matchup of the season against San Mateo High School on Tuesday, April 18, most of the players' seasons are over, except for those participating in the PAL Individual Tournament. Ultimately, according to Berkovits, this Panther squad left it all on the court. 
"It's bittersweet…for most of us [seniors], we're not going to be able to be part of an official team and together as organized as we have been able to these last four years…we're gonna miss it," Berkovits said. "All in all, we closed off the year as best we could."
Leave a Comment
Donate to The Burlingame B
Your donation will support the student journalists of Burlingame High School - CA. Your contribution will allow us to purchase equipment and cover our annual website hosting costs.
About the Contributor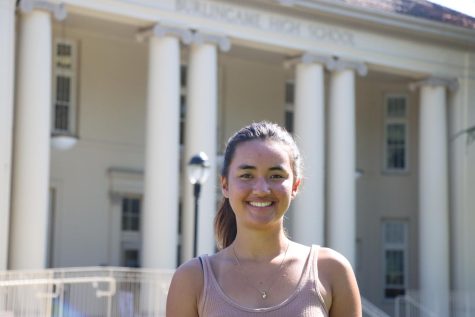 Michelle Moshkovoy, Sports Editor
Michelle Moshkovoy is a senior and a third-year journalism student at Burlingame High School. She is excited to be sports editor this year, delving deeper...