Although clever, Snapchat's AI bot threatens students' privacy and academic integrity
As of March, Snapchat has over 350 million active daily users and is one of the leading social media platforms for young adults. Anyone who's logged into the app in the past few weeks would have noticed an irremovable AI chatbot, My AI, awaiting them, pinned at the top of their screen.
In February, the bot was only released to people with a Snapchat Plus account. Once it was added to all accounts on April 19, the $4 monthly subscription became the only way for users to disable the bot. Even then, Snapchat only hides the bot from the chat feed, rather than fully removing it. 
Upon the bot's announcement, people were quite frustrated with this invasive infiltration of their app. The bot was not given a warm welcome, as Snapchat's reviews plummeted to a weekly average rating of 1.67 stars following the launch.
For several users, though, the bot has been an amusing chat partner. Rather than being annoyed by its presence, they take advantage of the bot, treating it like an online friend.
"If I do use [the bot], I use it when I'm either bored or just to mess around with it with my friends," freshman Siomara Rios said. "I feel like it's entertaining when you use it, because the stuff it says is interesting and sometimes it's just funny since it's a robot."
The AI is powered by OpenAI's viral chatbot, ChatGPT, whose automatic essay writing capabilities have threatened academic integrity in high school classes. It appears that My AI is no different: The app where many students chat with their friends can now do its users' homework.
For instance, here was My AI's response when asked to write an essay on the history of ice cream:
The chatbot wrote that entire response in about five seconds. My AI's speed and accessibility have already made it teachers' primary concern. Some are opting for more strictness around cell phones at school, suggesting that students place their phones in designated phone pockets to prevent usage during class.
Additionally, My AI has raised questions on security. According to Snapchat's website, if users stop sharing their location, "it may take a little time" for the bot to realize this.
Many users are uncomfortable with this aspect of the bot, especially since they didn't ask for the feature and are unable to erase it. Others, like freshman Rachel O'Brien, are not allowing safety concerns to ruin their experience with the app.
"Snapchat already has my location," O'Brien said. "I don't think [the AI] is necessarily bad because we give our location away to so many websites these days. Maybe it's a little bit concerning for some people, but I'm not so [worried]."
While My AI can make for a fun time-waster, it can also be somewhat disappointing. In O'Brien's experience, the mundanity of the bot's responses dissipates its novelty, and, after using it for a while, it can get boring.
"I like it because it's like somebody who can talk to you and give you information but you don't have to go ask for it," O'Brien said. "I don't like that everybody's chatbot is designed the same [way], so nobody really gets it personalized. But that's hard for an AI to gain, I guess."
Students agreed that if My AI had a longer memory and was able to retain information for more flowing, human-like conversations, it would be more fun to use — and less like another search engine.
"If you ask it something similar [to something you already asked], it'll just repeat itself a lot," Rios said. "If the responses are more varied, then I feel like it would be even more interesting, and I feel like I'd use it more."
Leave a Comment
Donate to The Burlingame B
Your donation will support the student journalists of Burlingame High School - CA. Your contribution will allow us to purchase equipment and cover our annual website hosting costs.
About the Contributor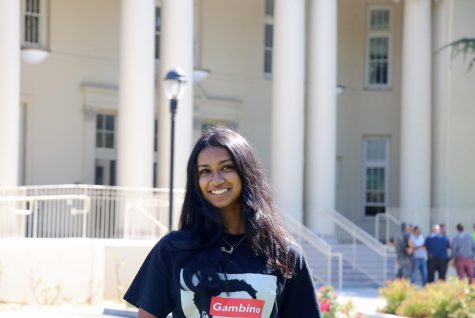 Brinda Iyer, Staff Reporter
Brinda Iyer is a freshman at BHS and a first year journalism student. She enjoys writing about topics that she likes and being creative, which is what...