Varsity baseball makes a statement with win over league No. 1 M-A
Ahead of last week's two-game PAL Bay series between No. 2 Burlingame and No. 1 Menlo-Atherton High School, most were looking forward to the latter game, where M-A's star pitcher, George Zaharias, was slated to face off against the Panthers' ace, senior Holden Glavin. Instead, an undefeated M-A opted to send Zaharias — a University of Texas commit — to the bump in game one on April 26 and the Panthers had to stick to their guns.
"We were all saying, 'No matter who pitches, just attack early,'" senior third baseman Lukas Habelt said.
In the top of the first inning, Burlingame came out swinging. After an aggressive leadoff strikeout by junior shortstop Eric Gee, second baseman Jackson Howard reached base on four straight balls, sending junior designated hitter Will Robbins to the plate. Robbins, batting .380 on the season with a team-leading 14 runs batted in, continued the aggression. And on a 1-2 count, Robbins pummeled a home run to bring the score to 2-0.
The early inning scoring didn't stop there. After Robbins' homer, Habelt tacked on to his impressive hits and steals totals with a single and subsequent stolen base. That allowed junior first baseman Dylan Kall to move him over to third, so senior catcher Charlie Happ could drive him home in the next at-bat.
"I'm not getting the average or RBIs I have if it's not for guys like [Will] Robbins, [Jackson] Howard, and [Eric] Gee getting on before me and starting off the rallies," Habelt said.
The stands were packed with college and professional baseball scouts, all prepared to watch Zaharias dominate. Instead, they watched his confidence floor as the Panthers rode high behind three quick runs. Still, the Bears weren't rattled by the bright lights and early offensive pressure.
Junior starting pitcher Luca Scatena pitched two statement strikes to open up his outing, only to give up a single on the next pitch. A double on a 1-2 count in the next at-bat was able to drive the man on first base across home plate. One batter later, another hit sent the man on second home and put M-A back within striking distance at 3-2.
Burlingame responded right away. Senior center fielder Aidan Alfers took a smooth swing on a 2-1 count and hit a towering leadoff home run in the top of the second inning to push the Panthers' lead to 4-2.
M-A then answered with two more runs on back-to-back ground ball RBIs through the infield. With the score tied 4-4, a dropped infield pop-up from Howard threatened more runs, but he stuck with the play to get a force-out at second base. Finally, before the next M-A batter got a chance to keep their rally going, senior catcher Charlie Happ made a savvy play to throw out a stealing runner with a bad jump.
In the third inning, the Panthers picked up where they left off. Kall sent another line drive to the outfield. Junior outfielder Neil Girdhar followed, driving Kall home to make it 5-4 with his first RBI of the game.
The flurry of scoring was then brought to a halt until the bottom of the fifth inning. On Scatena's final legs, the Bears knocked in the tying run on another ball through the infield to level the score at 5-5.
Burlingame failed to respond in the sixth inning after M-A brought in a new pitcher. The Panthers then made a similar pitching change, handing the ball over to junior Tyler Lachance to keep any late-game efforts at bay.
Under pressure to get back on top, junior outfielder Dylan Philibosian hit a single to open up the final inning. With red-hot hitter Dylan Kall — who leads the team in batting average and slugging percentage — up to bat, it seemed like Burlingame's best chance to pull off a win was at the plate.
"I've been simplifying my approach," Kall said about his recent success. "They've got to throw me three strikes… and I'm seeing the ball really well right now."
Although that hitting strategy didn't culminate in a game saving slam this time, it did lead the pitcher to hesitate and give Kall a quick base on balls.
Despite having exhausted the hottest section of its hitting lineup, Burlingame's confidence was unwavering with no outs in the inning.
"Any single one of our batters, one through nine, is dangerous," Habelt said.
After a Happ ground ball got Philibosian tagged out, a passed ball moved Kall to third base and sent junior outfielder Neil Girdhar to the plate with one out. Girdhar — filling in for injured senior outfielder Noah Greenblatt — has been in and out of the lineup this season. Yet he has not missed beat, hitting at a .500 clip in his first collection of plate appearances. 
Weeks of hard work to get into the lineup would come to fruition in Girdhar's biggest moment yet. Girdhar sent a hard hit grounder far enough that Kall could sprint home and dive under the catcher's tag. 6-5, Panthers.
"It's easy [to coach] because they want it," said head coach Shawn Scott about younger players like Girdhar filling in the order. "They want to take jobs from the upperclassmen… so it actually helps us get better."
The Bears had one more chance to maintain their perfect league record in the bottom of the seventh inning. But, ultimately, the Panthers prevailed in a continued masterclass relief performance by Lachance to triumph 6-5.
"[Tyler] is another guy that wants to compete and lay it out there for his teammates," Scott said. "You can't replace that."
In spite of such a statement win, Burlingame still had to beat M-A again at home on Friday, April 28, if they wanted to surpass them in the standings. Glavin, the Panthers' ace, had an off game but still managed to give up just two runs. However, with Kall absent due to injury and a sluggish offensive performance, the Panthers dropped their first game in three weeks with a 2-0 loss.
Still, Burlingame's confidence in the PAL Bay remains high.
"I think we're the best team in this league… regardless of where the rankings have us," Habelt said. "Our [pitching] rotation is filthy, we have the deepest [bullpen] in the league… and teams fear [our baserunning] when they come into Burlingame."
A 15-2 win against Gunn High School on April 29 kept the ball rolling for the team as they inch closer to the CCS tournament, where last year's squad fell short in the championship.
"This team has that same makeup. They have the same fight," Scott said.
Leave a Comment
Donate to The Burlingame B
Your donation will support the student journalists of Burlingame High School - CA. Your contribution will allow us to purchase equipment and cover our annual website hosting costs.
About the Contributor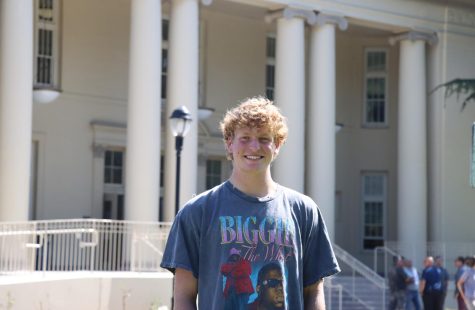 Zach Shapiro, Staff Reporter
Zach is a junior in his first year on the Burlingame B staff. Outside of school, he spends a lot of time playing Football and Basketball, both within BHS...