Mishra-Agoram, Gyde make thrilling run to tennis PAL Championship
After winning 10 of their 13 regular-season matches at No. 1 doubles in the PAL Bay, seniors Arihant Mishra-Agoram and Ryan Gyde had one mission in last week's league tournament: to keep winning.
"It was expected from the first game [of the PAL Individual Tournament]," Gyde said. "I knew we were going to make it far."
The pair, which was seeded fourth in the 32-team draw, delivered on that expectation, advancing to the PAL doubles championship at San Mateo High School. 
It wasn't all a breeze, however. After a 6-0, 6-0 victory in the round of 16, Mishra-Agoram and Gyde took on a formidable opponent in the quarterfinal on April 26: the No. 5 seed, San Mateo High School's Kaden Chang and Dylan Chua. Both Chang and Chua played singles for the Bearcats during the regular season, leading San Mateo to a first place finish in league
Chang and Chua jumped out to an early lead, winning the first set 6-4 after 10 competitive games. In the second set, the Panthers hung on to win 7-5 and force a match-deciding — and season-deciding — 10-point tiebreaker. 
In the tiebreaker, Chang and Chua again held the early momentum after taking a 3-0 lead off of unforced errors from Mishra-Agoram and Gyde. Despite being down three points with their season on the line, the Panthers looked unfazed. Gyde won two points with back-to-back volleys, and a forehand in the net from Chua leveled the score to 3-3.
"When we got to 3-3 on that changeover, I think we had a little bit of a mental advantage… the other team is thinking, 'We could be up 5-1, [or] 4-2 [or] 6-0,'" assistant coach Doug Stone said. 
The subsequent points had the intensity of a final — long and intense, with back-and-forth rallies that showed both teams' skill from the net and baseline.
At 5-6, Mishra-Agoram glided across the court to hit an impressive slice off of a tough shot. The crowd — composed of teammates, coaches and family — held its breath as the ball barely floated over the net. And following miscommunication from San Mateo, Chua's attempted put-away sailed long. The crowd erupted into cheers as Mishra-Agoram passionately pumped his fist into the air — 6-6. 
"Every point was tight. Just some incredible tennis, some incredible resiliency," Stone said. "There were a lot of points where you thought that the point was over and the point wasn't over, you know, great gets on both sides."
The next point, Gyde was impenetrable at the net to force a missed volley from Chang. Finally, following a series of fast-paced rallies and unforced errors from both teams, the Panthers found themselves with a match point at 9-7. 
But a lob from Gyde went long the next point, and Mishra-Agoram then hit a shot that Chua put away at the net to again tie the score, 9-9. After losing three match points, Mishra-Agoram hit an overhead winner to give Burlingame another chance to end the match at 10-9. 
On the Panthers' fourth match point, both teams engaged in yet another competitive rally. When San Mateo's ball suddenly hit the net cord and landed softly on Burlingame's side, Mishra-Agoram quickly ran to it, swung back for a forehand winner and hit it into open space. 11-9, Panthers.
Overwhelmed with relief, Mishra-Agoram fell to his knees with his hands over his mouth, as Gyde came over to hug him and celebrate the 4-6, 7-5, 11-9 victory.
"I [couldn't] believe we did it…when we won that game there was a rush of emotions," Gyde said. "I was so happy we won. At the same time, I felt bad for them, they played so well. We deserved it, we kept pushing through every trial. It was a very fun game, very gruesome."
The duo certainly celebrated the euphoric win, but they had to dial right back in for the semi-finals 30 minutes later against the No. 1 seed, Menlo-Atherton High School's Ollie Novak and Mitch Herbst. The matchup was a chance for redemption, as the M-A duo had handed Mishra-Agoram and Gyde two of their three losses in the regular season. 
The Panthers didn't look like underdogs, though, as they won more dominantly 7-6 (5), 6-3 to punch their ticket to the PAL Championship match. 
"We told ourselves we weren't going to lose that one," Mishra-Agoram said. "We were able to figure out their strategy, and we kind of learned how to beat it…they were also a bit tired too. [They] definitely [weren't] at the peak that we usually played them at the previous couple games, but we were just able to grind the game out and walk away."
The next day on Thursday, April 27, Mishra-Agoram and Gyde took on the No. 2 seed, Half Moon Bay High School's Brian Booher and Evan Alexander, in the championship. Booher and Alexander also played singles during the regular season. 
Burlingame continued its rhythm from the last day and took a quick 4-1 lead. However, the Cougars won five straight games to close out the first set 6-4. In the second set, Mishra-Agoram had the opportunity to serve for the set at 5-4, but couldn't hold. Ultimately, the finalists battled it out in a second-set tie break, where the Panthers fell 10-3. 
According to Stone, the loss came down to not finishing enough points at the net and not taking advantage of the Cougars' sagging on the baseline. 
"I would have liked to see them mix it up a little bit, but there was nothing major," Stone said. "Every single one of those games was still close…there must have been eight or nine deuce games. Could have gone either way, I think they were 50-50."
Although they fell just short of the PAL doubles title, Mishra-Agoram and Gyde's season isn't over. Their championship appearance automatically qualifies them for the CCS tournament on May 17 at the Aptos Imperial Courts Tennis Club.
"We'll try to get on the court as much as possible and just enjoy the last three potential games of our career," Mishra-Agoram said after the final. "This is my most fun year by far playing with Ryan. We've become such close friends off the court too… I consider him my brother, you know, I love him to death… We're just able to read each other on the court, that's what makes the difference."
Leave a Comment
Donate to The Burlingame B
Your donation will support the student journalists of Burlingame High School - CA. Your contribution will allow us to purchase equipment and cover our annual website hosting costs.
About the Contributor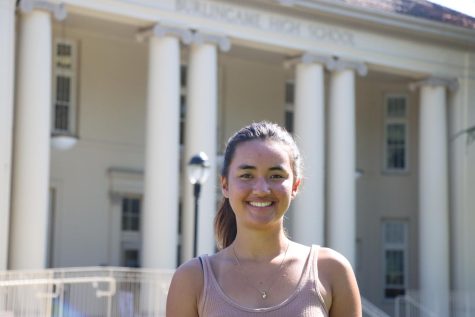 Michelle Moshkovoy, Sports Editor
Michelle Moshkovoy is a senior and a third-year journalism student at Burlingame High School. She is excited to be sports editor this year, delving deeper...