Surprises, records and victories: Track and field impresses at thrilling PAL Finals
Burlingame's varsity track and field squad sent 17 athletes to Sequoia High School on Saturday, May 6 for the Peninsula Athletic League (PAL) Finals, where the league's top athletes competed to qualify for the Central Coast Section (CCS) Championships next weekend.
In any event, a top-five finish or a CCS at-large qualifying standard is enough to secure a CCS berth. But as soon as the meet began and the events were underway, the Panthers made it clear to everyone they meant business — and they weren't going to be satisfied with fifth. 
"Just about everybody is performing at their top marks, their top speed, their best jumps, their fastest times of the season," head coach Chris Coleman said. "So our team is doing exactly what they should be doing at this time of the year."
On the boys' side, senior Romer Rosales-Hasek took home the 800-meter title, edging out a competitor from Sequoia by just five one-hundredths of a second in a thrilling race. 
"I'm very satisfied with how I did in [PAL Finals] since last year I was barely able to get into CCS, and this year I made it easier on myself, which makes me much more confident," Rosales-Hasek said.
With a third-place finish in the 400-meter final, junior Raymond Frank also earned a CCS berth. Frank's time of 51.50 seconds etched his name into the school's history books, as he is now the third-fastest Burlingame runner ever in the event.
Frank and Rosales-Hasek, alongside juniors Tanat Albers and Jake Rothstein, were also able to snag a CCS spot in the boys' 4×400-meter relay, finishing fifth overall. 
Senior Anthony Leung recorded a personal best of 40 feet, 10.5 inches in the triple jump, earning a CCS berth with a third-place finish to become the fourth-best Burlingame male triple jumper all-time. 
On the girls' side, freshman Stella Newman continued her track success this season and earned multiple spots in CCS, placing fourth overall in the 1600 and 800-meter events, both personal records. She will most likely prioritize the 1600 at CCS, however.
"We have a bunch of people on the team, [including] underclassmen qualifying for CCS in multiple events," Rosales-Hasek said. "That's cool to see since we didn't have that last year."
In her first year competing in the 300-meter hurdles, junior Avah Reichow dominated with a personal record of 45.26 seconds, which Coleman called the "upset of the year." Reichow's run is the third-best all-time among Panther girls in the event, and she beat the all-league field by almost three seconds on her way to victory.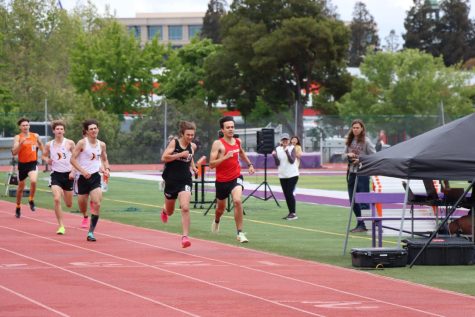 Junior Cora Haggarty yet again proved her dominance in the girls' sprint events, recording personal records and earning CCS spots despite fighting through an illness. Haggarty won the 400-meter dash in 58.19 seconds, barely holding off a challenger from Hillsdale. 
"It's rewarding to see our collective hard work and training pay off," Haggarty said.
Reichow finished in third place in the 400 behind Haggarty, posting her lifetime best time of 59.21 seconds.
The final event of the meet, the 4×400-meter relay, was probably the clearest demonstration of Panther dominance. Reichow led off the relay, followed by juniors Elise Spenner, Lauren Gonzalez and Haggarty. The team outpaced the competition by a whopping eight seconds, crossing the line in an impressive time of 4:06.83. 
"The relay teams [came] together and [worked] through to perform at their top level together as a team rather than just as individuals," Coleman said. "When you start the season, you have a certain level of fitness and endurance you're at and the goal is to have your fastest times and your best performances towards the end of the season. And we are doing that right now. So that timing worked out perfectly."
After their impressive showing at the PAL finals, the Panthers should be full of confidence as they shift their focus to May 13's CCS trials and May 20's finals in Gilroy.
"Going into [next] weekend, I am going to leave out expectations," Haggarty said. "I am going to give my best effort, compete and try my best. My goal is to run as hard as I can, trust the process and hopefully see the results."