Cherimoya makes exciting comeback
The Vietnamese sandwich and noodle shop Cherimoya, a longtime Burlingame Avenue favorite, is back and better than ever. Although it shut down at its original spot near Sephora last fall, it has reappeared in a bigger location just several blocks down at 1407 Burlingame Ave. The menu and the food are just as good as before, and those who were saddened to see Cherimoya go didn't need to wait long to see it pop back up again.
Admittedly, I went to Cherimoya for the first time several days ago. Although I'd heard nothing but great things and had been meaning to try it, I wasn't able to before the restaurant closed. Therefore, I was thrilled to see it reopen, and it certainly did not disappoint. 
Cherimoya is famous for their Vietnamese sandwiches and garlic noodles, so naturally I had to order both.  I ordered the lemongrass pork banh mi and found it refreshing and of high quality. A typical banh mi at Cherimoya contains pâté, homemade mayo, pickled carrots and daikon, cilantro, jalapeños and cucumbers on a baguette, along with the customer's choice of meat. Although I was originally a skeptic, I found the carrots, daikon, cilantro and cucumbers all added a refreshing and healthy taste to the sandwich, and I never felt like I was eating too many vegetables (after all, I ordered a sandwich, not a salad). The crunch factor was excellent, as the bread was well-toasted and the addition of the jalapeños added a cool, clean, crunchy spice to the equation. The pork itself was done perfectly. However, the star of the show was the lemongrass, which added a unique flavor to the sandwich that, while I was not familiar with, found satisfying and enjoyable. Overall, the sandwich was the perfect mix of saucy, cruncy, and refreshing Vietnamese food, and is a perfect food option for anyone looking for a quick bite.
The noodles were equally as delicious. Cherimoya lathers their noodles in butter and copious amounts of garlic, which is pretty hard to complain about. With the option to put meat or tofu on top, the noodles provide a high quality lunch option that do not disappoint . The mix of buttery, garlic egg noodles with chicken was a total win in my book.
Cherimoya's sandwiches and noodles are well worth the visit, and I would highly recommend it. A great place to stop in for a quick bite, Cherimoya's reappearance on the Avenue has (rightfully) been greeted by excitement from Burlingame students. With so many delicious options on the menu, I'm positive that Cherimoya has not seen the end of me, either. The food was an instant success both in my mind and in my mouth.
About the Writer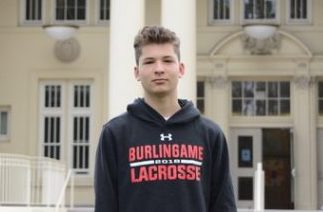 Ethan Gardner, Sports Editor







Ethan is a senior and a second-year journalism student, and will serve as the Sports Editor for the Burlingame B this year. He plays lacrosse...