COVID-19 restrictions hold back boys volleyball team in season debut
Burlingame boys volleyball took the court against Aragon High School in their April 30 opening match to rounds of applause from a socially-distanced crowd. However, even amid the spectatorship restrictions, something felt off: only two players remained on the bench in the reserves. 
In 2020, the boys volleyball team had its first season ever cut short due to the COVID-19 pandemic. This year, the squad has seen its roster size dwindle significantly in the last few months. With San Mateo County yet to exit California's orange tier, players for a number of indoor sports must choose between their club and high school teams, unable to play for both. 
"It's quite a bit of a challenge," coach Lawrence Ngai said. "If we have our club players, we're able to have 12 on the roster. If we don't, we're down to eight."
Against all odds, the match started off strongly in Burlingame's favor. Taking the lead halfway through the first set, the team pulled ahead to win 25-19. Uncovered positions and shots in the net plagued the Panthers' start to the second set, but after a series of well-placed serves from captain Nathaniel Teitelbaum, the team inched ahead of Aragon. 
The teams rallied back-and-forth, but Aragon prevailed 25-23 to tie the match at one set each. Due to standout plays from senior Ryan Li (setter) and junior Justin Guo (outside), Burlingame charged ahead in the third set. The Panthers held their early lead to win the set. Unfortunately, Aragon went on a tear in the fourth and fifth sets, making a comeback that won them the match 3-2. 
While Burlingame's club volleyball players were unable to participate in the on-court action, that didn't stop them from showing their team spirit. From the sidelines, four ineligible players, including senior middle blocker Niall Finnegan, actively cheered on their teammates, offering advice and strategy during team huddles. 
"This is our first game of the season, and the first time that a lot of those guys have been out on the volleyball court competitively," Finnegan said. "Honestly, overall they're doing really well."
In 2019, Finnegan and his friend Zachary Ngai began a campaign to bring Burlingame into the boys volleyball league after realizing the school lacked a team. However, when the COVID-19 pandemic hit, growing the team became an even bigger challenge. 
"We didn't have a lot of people try out this season," Finnegan said. "Covid definitely complicated things even more, because we couldn't really get the sport much exposure. I'm proud that we even got our roster together." 
While Burlingame was able to play with their numbers on Thursday, simply filling up a lineup remains a major challenge for them and for other teams. In fact, Burlingame wasn't able to participate in the first week of the season because their opponent, Cappuccino High School, did not have a full roster. 
"If one of our players is injured, and another's out for the game, that puts us in the range of only having five [players]," freshman Jake Rothstein said. "You need six players to play on the court. Otherwise, you automatically forfeit." 
The county restrictions extend into all team activities, including practices. This presents a unique challenge even for coach Ngai, who has experience playing volleyball at the professional and collegiate level. 
"There are certain drills that we could only do with twelve players, versus eight or four,"  Ngai said. "You can't scrimmage, you can't do a lot of things. Lucky for us, we actually had a place that we could work out together before the season."
Still, there are some benefits to having a smaller lineup. Smaller lineups provide an environment for newer players to gain experience in key positions. With many of the team's key players graduating this year, this on-court time is crucial in preparing for the future. 
"With the lower number of players, it gives others an opportunity to step up and play the game as well," coach Ngai said. "And we have four who have been playing for a long time, who are more your impact players. They provide leadership skills and set the right level for the gameplay. It makes it fun for all of us, and keeps the game competitive."
About the Contributor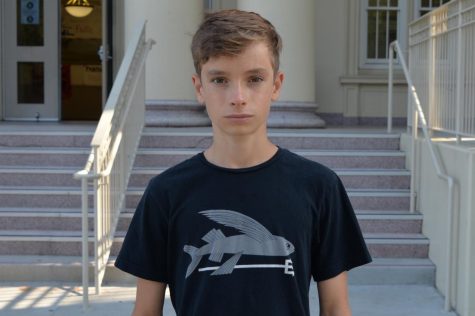 Jackson Spenner, Senior Reporter
Jackson Spenner is a junior at Burlingame High School and a second-year Journalism student. With a meticulous eye for detail and a passion for deep investigation,...