Burlingame senior hosts environmental workshops targeting food and textile waste
On Sunday, Nov. 14, senior Elena Hung hosted the No-Sew Upcycled T-Shirt Reusable Face Mask workshop over Zoom as part of her work on Burlingame Public Library's Teen Advisory Board.
Hung, along with Environmental Education Fellows Raquel Asi and Chiara Barasuky-da Silva, presented a mini-lesson on the impacts of fast fashion.
Asi and Barasuky-da Silva are part of a public governmental agency called ReThinkWaste, with 11 member agencies extending from Burlingame to East Palo Alto. Along with South Bay Recycling and Recology San Mateo, their main goal is to improve the waste management system through education and outreach.
"Waste management practices aren't always prioritized when people think about the environmental space," Barasuky-da Silva said.
"I think environmental education, specifically for students, is very important because students are the voice of the future generation," Asi said. 
After the presentation, participants were encouraged to follow a step-by-step tutorial on crafting reusable face masks from repurposed fabrics.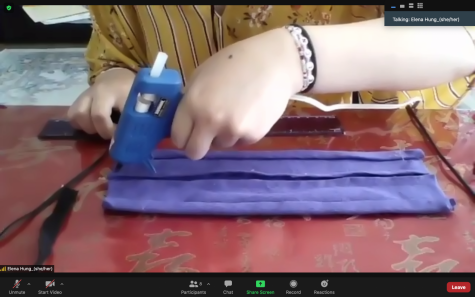 "I think that the topic [of textile waste] is often overlooked," Hung said. "Wastes in general are huge contributors to the large carbon footprint that we have."
Hung is a member of the San Mateo Youth Climate Ambassadors and the SMUHSD Sustainability Committee. The textile waste workshop, which followed another workshop discussing food waste, is part of a larger community impact project aiming to help teenagers understand the ramifications of waste.
During the first workshop, participants learned how to bake zero-waste apple pies. The purpose of the event was to help people be more conscious about the amount of waste they produce while cooking.
"[Climate change] never felt as pressing as it did over quarantine, where you got to see how worldwide lockdowns could help the environment," Hung said. "That pushed me to learn more about climate change and see if I could do something to help."
The two waste workshops are the first environmental events Hung has organized. With them, she aims to go beyond awareness and focus on what people can do to directly improve the planet.
"I want to plant the seed where people can start thinking about [their environmental impact] throughout their life," Hung said. "Having that thought of, 'maybe I should do things differently,' or 'this is how it affects our planet.'"
At Burlingame, Hung believes that waste is not being sorted properly because the school lacks a solid tri-bin waste system. Compounding the issue, she says that the free lunch program is producing more single-use plastic waste, most of which ends up in landfills. She urges students to be more conscious when sorting their waste.
"Many people are already aware of [environmental issues], but they don't know the right way to approach it," Hung said.
Hung plans on hosting more environmental events while serving on the Teen Advisory Board, focused on promoting individual behavior changes. 
"I'm hopeful for change — I don't want people to be discouraged." Hung said. "I want people to understand that they can do something, and even if it just starts with themselves, that is already a lot."