Boys' tennis continues acing forward, despite recent losses
Playing the No. 1, No. 3 and No. 4 Peninsula Athletic League (PAL) Bay Division teams in a four-game stretch is no easy draw. 
The boys' tennis team (5-8, 4-8 PAL Bay Division) found themselves at that crossroads before spring break. Losing three consecutive games 7-0, they avoided a fourth straight sweep across the ladder against No. 3 Carlmont High School, winning two matches.
"Rough patch is an understatement," head coach Bill Smith said. "The competition's been good and [against Menlo-Atherton High School (M-A)] for example, we played really well individually up and down the lineup."
While they haven't fared as well on the scorecard, within those matches are sets, games and points which Burlingame has not made easy for their opponents. 
And their recent matchup on April 7 against Aragon High School, who sit at No. 2 in the Bay Division, exemplified just that.
Junior Jared Berkovits pushed Aragon's Alex Tu to the brink, as they split sets 7-5 and 4-6 before Tu narrowly won 10-8 in a third set tiebreak. 
The talented duo of sophomore Dylan Ares Hanson and junior Ryan Gyde also took their opponents Aragon's Thomas Nic and Keiya Wada to a tiebreak in the first set at No. 1 doubles. 
Ares Hanson joined the program in mid-March after participating in the spring musical, "Into the Woods." His presence on the court adds a valuable top four or five player into Burlingame's rotation. 
"I've been wanting to be back all spring. I just couldn't really do both things, so it's definitely good to be back," Ares Hanson said. 
The partners' grit and capability was perhaps best seen in their match against No. 1 M-A on March 22, where they played toe to toe with the best doubles team in the Bay Division. 
M-A's Ollie Novak and Mitchell Herbst, who occupy the spot, swiftly took the first set 6-1. 
"We started off a little not-confident because they're the No. 1 seed, so it's kind of scary, but once we got in there, we were just ourselves," Gyde said.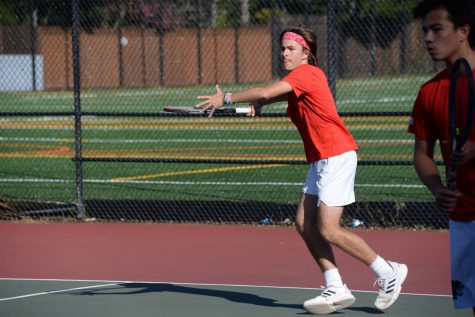 Ares Hanson and Gyde flipped the script in the second set, challenging them to a tiebreak, 7-6 (1-7), by hitting clean and hard balls, poaching at the net and serving powerfully. 
"No. 1 doubles played like a PAL No. 1 doubles team," Smith said. "It looked very much like the transition from boys' tennis to mens' tennis."
Despite the Panthers sitting at the No. 5 spot in league standings, the season has been full of individual gains, in part due to their resiliency. They have cemented their place in the Bay Division, beating No. 6 Hillsdale High School in their two matchups this season and dismantling last place Mills High School. 
"The singles players are greedy; they don't quit. They could lose 6-0, 6-0, but it's not over in 40 minutes. They're out there for an hour plus," Smith said. "But doubles is where I see the most improvement of players starting to have multiple light bulbs in their head about how to construct a point, what to expect and now be in places in advance." 
Burlingame will not qualify as a team for the PAL playoffs or Central Coast Section (CCS), two very selective tournaments. But all the same, Smith has the approach of playing for results now, not the future. 
A prime example is the placing of the team's lone seniors, Nicholas Losito and Robert Peterson, at No. 3 doubles.
"I've got two players I shouldn't be playing because we're not a playoff team. Playing somebody else in their role to make them better — lots of coaches will do that," Smith said. "But this is their season, so they're going to play. They're the best [duo] on this team for that spot… you owe it to the players."
Capping off their regular season with a 7-0 smackdown against the Mills Vikings on April 19 — and finishing with an over .500 record — the Panthers are keeping their head high.
"We will stay in the Bay Division… we're one of the best leagues in Northern California, much less the state, so we're pleased," Smith said. They're good kids… they achieved what they could achieve… That's the most important thing."
Ultimately, in a sport that is decided by an outcome of countless points, the team's mentality is simple. 
"One point at a time," Gyde said.