Sullivan retires after 43 years of teaching
Hang on for a minute...we're trying to find some more stories you might like.
Beloved history teacher Dave Sullivan plans to retire from teaching high school after 43 years on the job. Sullivan started teaching in 1975 at Campolindo High School in Moraga, California and then came to Burlingame in 2001 to be the Assistant Principal for two years. In 2003, he left to teach at Capuchino High School, where he taught for seven years. Finally, in 2010 Sullivan returned to Burlingame, making the current school year his 17th year in the San Mateo Union High School District. While he has focused primarily on history at Burlingame, Sullivan has taught a variety of subjects, including English, economics and math.
When asked what he will miss most about teaching, Sullivan answered unequivocally that he would miss his students more than anything.
"The kids are great," Sullivan said. "They keep you young and I like seeing their writing improve."
After he retires, Sullivan still plans to keep busy.
"I teach part time at Chabot College in Hayward, so I'll keep doing that," Sullivan said. "I'll play some golf and travel as well. I'm going to go to Aruba."
Sullivan was known for making constant puns and jokes during class, and junior Katherine Mohr said that his iconic sense of humor was one of the most memorable aspects of his class.
"Sometimes when we get our quizzes back, he'll rhyme the number of points that we got on it with another word, so you might get back a quiz that says 'Seven is heaven' or 'Nine is fine,'" Mohr said. "It always just makes it a little more fun to get your scores."
Junior Jason Shevach will also remember Sullivan as being approachable and always available for looking over work and giving feedback.
"I talk to Mr. Sullivan in the hallways, outside of class too," he said. "I really enjoy his ability to not only be a good teacher but to be a nice person to have a conversation with."
Students are sad to see Sullivan leave, and his impact on Burlingame is evident.
"He has been such a big part of this community for so long," said senior Gabby Alvira, a former Sullivan student. "I know he will be missed."
About the Writer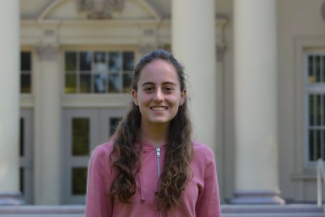 Allie Kennedy, Design Editor
Allie Kennedy is a senior and the Design Editor for The Burlingame B. Allie is also the Co-President of the BHS Mock Trial team and the secretary of the...