Burlingame cheer brings spirit to long-awaited first home game
Last Friday's match-up against Menlo-Atherton High School offered a little bit of everything: a highly-anticipated competition, the first home football game of the season and the spirit squad's inaugural performance before a packed Burlingame crowd. 
Making their return after two months of away games, the cheer demonstrated incredible spirit,  raising the football team's energy and offering a surge of enthusiasm to the crowd at the Oct. 7 game.
"I think the environment is definitely different," sophomore and junior varsity (JV) cheerleader Alice Lee said. "It's a lot more fun to cheer at home games because there's a sense of pride."
Ahead of Burlingame's game against M-A, JV freshman Natalia Cerc was similarly energized to perform at home.
"I'm really excited that it's our first home game, however, I also like the experience of going to other schools to cheer," Cerc said.Ultimately through cheer, Cerc is able to display her passion for not only the sport, but simultaneously her love for the school, her team and supporting the football players.
"
I was super happy after the game because it felt like home and where I belonged."
— Megan Dougherty, Varsity Cheerleader
While the varsity football team lost 7-20 to the Bears, the cheerleaders kept the packed student section riled up throughout the game. They tossed red confetti into the air, threw candy into the stands, performed dances and sung chants.
"I was super happy after the game because it felt like home and where I belonged," junior and varsity cheerleader Megan Dougherty said. "The energy at home games is so much better, and it feels so good to see all the spirit our school has. No matter what the outcome of the game is, the spirit will always be top tier here at Burlingame."
At home games, the cheerleaders and the crowd feed off each other, working together to create an energized atmosphere. More than anything, Burlingame students make the cheerleaders feel accepted and supported.
"It's such a good feeling because when [the crowd] yells or claps out cheers with us because they really get us and others pumped up," said junior Zoe Abbey, a varsity cheerleader. "[It] feels really nice since it's pretty stressful standing out there in front of the whole school."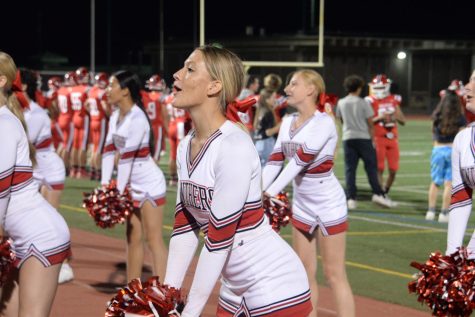 Nonetheless, the nervous sense of being watched by the school is quickly dismissed when the student section engages with the cheerleaders' chants.
With the help of a supportive crowd and an electric environment, Abbey and Dougherty were pleased with the cheer team's efforts at the first game.
"In the crowd [at home games] you have familiar faces, friends, and family and the spirit they bring to the home games set such a positive and exciting vibe all around."