AVID college readiness program comes to Burlingame
Hang on for a minute...we're trying to find some more stories you might like.
Advancement Via Individual Determination (AVID), an international program designed to prepare students for success in college, will be offered to Burlingame freshmen in the fall of 2019. Over 2,000 high schools across 46 states and 16 countries offer AVID, and there are almost 1.5 million students in the program.
The program is designed for students earning primarily B's and C's in middle school. Low-income students, minority students, students who would be first-generation college students and other groups typically underrepresented in higher education are also suggested to apply to join AVID. The program provides extra support in navigating the college preparation and application process.
At Burlingame next year, AVID will be a one period elective class with 20 to 35 freshmen. The class will be taught by Michael Zozos, who has prior experience with AVID from leading classes for all four grades at El Camino High School. Luis Mashek will be the AVID counselor, and Michele Fichera will be the AVID administrator. The AVID team will attend a summer training program to learn more about how to implement AVID most effectively.
The administration will reach out to incoming ninth graders who appear to be good candidates for AVID, and students not contacted by the administration may have the opportunity to apply as well. After an interview process, the AVID class will be determined.
"Students have to have this determination and motivation to improve. They have a goal: they want to go to a CSU or UC. But they don't know quite how to get there," Fichera said.
Students placed in the program will be expected to stay in AVID through all four years of high school.
"The group of students will remain together to form a cohort, or an AVID family, a family of support, where students are working toward a collective goal," Zozos said. "I'm going to be working with those students over multiple years so that we build a greater bond, and the trust and compatibility of working together leads to greater success."
Freshman and sophomore year, AVID class time is dedicated to building skills such as time management, organization, questioning and note taking. Developing these characteristics is supposed to help AVID students succeed both in their current high school classes and later in college. Junior and senior year, the class transitions to focus more on standardized test prep, graduation, and applying to college.
Additionally, the AVID class will take time to visit colleges. In the fall, the freshmen will take a trip to a local college, and in the spring there will be an overnight trip to colleges in Central and Southern California. Students will probably need to make individual financial contributions to be able to travel, but the program leaders will also fundraise with the ultimate goal of having AVID be self sustaining.
"We'll expose students to a variety of schools, like big UCs or CSUs, or even smaller private schools, giving students a full range of options so that they can choose and make choices about schools that are most appropriate for them," Zozos said.
AVID's goal is to narrow gaps in achievement and opportunity between AVID and non-AVID students, and the data suggest that AVID is successful: of all AVID high school graduates, 95 percent enroll in college, with 63 percent of those students attending four-year institutions. Over 85 percent of AVID students who go to college stay for their second year. A study reported by Education Week suggested that once in college, AVID graduates outperformed their non-AVID peers.
AVID in Burlingame will not be able to accomodate all the students that could benefit from it. Approximately 20 percent of the class of 2018 did not meet CSU or UC eligibility requirements, but only 35 students at a maximum from each grade can be in AVID. However, Burlingame offers other venues unaffiliated with AVID through which students can find support, including the academic counseling department, the college and career center, tutoring in the library and flex time.
About the Writer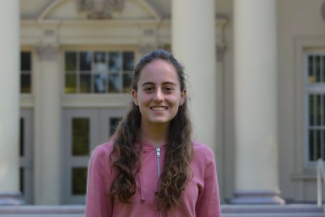 Allie Kennedy, Design Editor
Allie Kennedy is a senior and the Design Editor for The Burlingame B. Allie is also the Co-President of the BHS Mock Trial team and the secretary of the...