Caltrain electrification project promises efficient and environmentally friendly rides
Over the last decade, the Bay Area's population has grown substantially, leading more people to use Caltrain to commute as an efficient, traffic-free, mode of transportation. Increased ridership in the past few years has led to a demand for modernization that allows for more efficient travel and is better for the environment and community. 
Diesel mods, the current Caltrain models, are outdated; they create too much noise and consume too much fuel. The new Electric Multiple Units (EMUs) train cars will solve these problems. 
"When you have a locomotive pulling six cars, you need to burn a lot of energy just to get things back up to speed. Again, when everything has an independent motor, you can accelerate and decelerate a lot faster, so just the matter of getting in and out of stations is going to be a smoother process." Public Affairs Specialist for Caltrain, Dan Lieberman said. 
With these changes, train service will become more frequent and faster. EMUs are also cheaper since converting models will lower fuel consumption. The new EMUs will produce less noise then the current diesel models. Air pollution and greenhouse gas emissions will also decrease, even when electrical power generation is taken into account. On top of this, since more people will be using public transportation once the Pandemic is over, there will be less traffic and fewer car emissions contributing to pollution. 
 Since some of Caltrain's tracks were built as early as 1863, they weren't constructed to be compatible with cars.  
"There's a lot of ways for a car to get hit by a train or person to be hit by a train, which is obviously a major safety problem. In addition to that, particularly as we're talking about increasing our level of service… we would like to eventually have a grade separation at each one of these crossings, which lower[s] the road and raise[s] the tracks so that they don't touch," Lieberman said. 
The Hillsdale station specifically is being redone to make it more modern, and it is being moved north so that it's closer to housing developments making it more accessible.
Prior to the pandemic, Chance Bonifacio, a senior at Burlingame, used Caltrain often.  Even though he isn't taking it currently, he is still looking forward to the new construction updates. 
"I think it would be rather something of a good experience to travel on electric power trains. I think maybe things will change in terms of timetables and travel frequency, which could be great because there will be more flexibility amongst people with destinations to go and in terms of timeframes," senior Chance Bonifacio said.
About the Contributor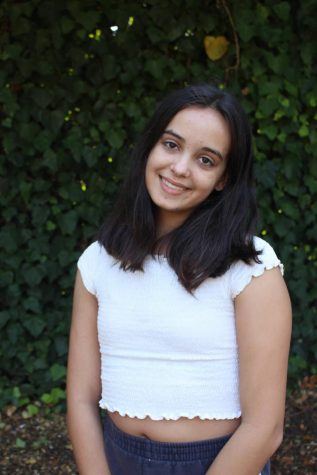 Sabina Barrolaza, Staff Reporter
Sabina Barrolaza is a junior and a first year journalism student. She loves to read and watch movies. In her spare time, she loves to bake with her family...